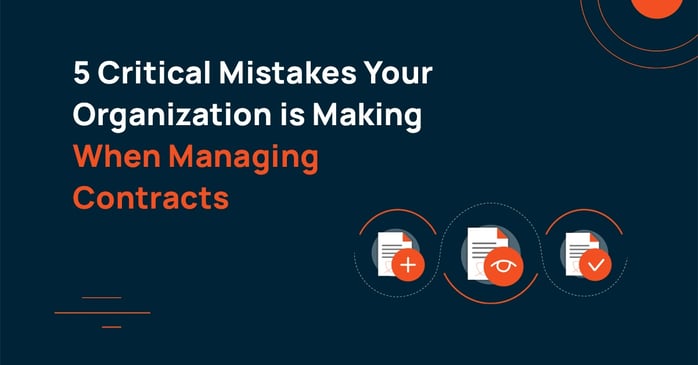 Within the modern business model, the complexity of contracts, contract terms and contract conditions is growing. The number of contracts requiring proper management is also increasing.
Managing contracts manually is a huge burden on an organization and can result in higher risk and costs. Even if your company is out of the Dark Ages of paper-based contract management—using email to send contracts back and forth between editors, reviewers, and designated signatories is an efficiency killer.
This means that organizations need to change the way they manage contracts. The first step is recognizing where there is room for improvement. Here are 5 critical mistakes many organizations make when it comes to managing their contracts:
1. Not Utilizing Contract Document Templates
If contract writers begin each new contract with a blank slate, each creator is likely to use a different structure, format, and/or style. The inconsistency between contracts can be frustrating and confusing to signing parties, both inside and outside of the organization.
2. Storing and Tracking Contract Documents on Multiple Shared Drives
When contracts live in multiple locations, it can get difficult to track down the latest version of each one. Access to each drive might be available to some and not others. Who controls each drive? How are permissions managed? Storing contracts on a shared drive is step up from email, but it is important to think about access and security. Searching for a specific contract within multiple shared drives can also quickly become a very difficult and daunting process.
3. Managing Contractual Obligations Manually
When a contract requires action from a client or signatory, how does your current contract management system handle it? If your contract manager is manually keeping track of obligations with a calendar or post-it notes, required action can be missed and deadlines come and go.
4. Not Tracking Revisions to a Contract Document
When contracts are revised, it is important that contract administrators are able to quickly get the latest version out to reviewers and approvers. But how does contract administration know which is the latest version? Are all changes and comments collected in one place in the event there is an audit?
5. Not Monitoring Contracts that Auto-Renew
Effective monitoring and follow-up for auto-renewing contracts can easily become an overwhelming task for contract administration, especially when there are hundreds of contracts being renewed automatically each week. The cost of the convenience of contract auto-renewal is letting a contract with out-dated conditions continue, and/or continue longer than either party would like.
How Can Contract Management Software Help?
ConvergePoint's Contract Management Software streamlines the entire contract process with two full-featured sites on one scalable, secure In-House SharePoint platform or hosted as a Sofware-as-a-Service solution. Let your legal team rely on our software to organize the contract creation process, send automated notifications about upcoming deadlines, manage renewing and expiring contracts, and quickly find important contract details.
Here are the 5 ways we can help your organization deal with these contract management mistakes.
Custom Templates
ConvergePoint offers the ability to create custom templates from your existing contracts. Your employees are able to reuse them and your contracts will stay consistent and professional.
One Central Repository
ConvergePoint's Contract Management Software allows organizations to easily find contracts and supporting documents in one secure, central repository. Our contract management software uses your existing employee address book for role-based access, instead of managing permissions in multiple places. Unlike other stand-alone SaaS solutions, there is no separate new user setup. Because ConvergePoint's Contract Management Software inherits data from your organization's own active directory, setting and controlling permissions is simple and streamlined.
Contract Obligation Reminders and Notifications
ConvergePoint's Contract Management Software allows your organization to better manage contractual obligations and key dates with auto-reminders and audit trails. Our contract management system keeps your operations proactive and makes it easy to manage risk.
Version History
With Contract Management Software from ConvergePoint, all contract revisions, version history and comments are tracked. Making it easy to not only know what the most up-to-date contract is easily accessible but any changes or comments made about the contract are all in one place.
Contract Monitoring
Our Contract Management Software sends reminders to contract managers and administrators so unused contracts can be renegotiated and aren't auto-renewed. ConvergePoint sends notifications remind contract managers it is time to complete an internal review, or send the signatories a notice of renewal.
Related Article: 3 Crucial Responsibilities all Managers have When it Comes to Policies
If you have yet to automate your contract management process, perhaps it is time to consider contract management software that can incorporate a way to manage the entire contract management lifecycle, while also providing business intelligence and easy searchability that providers your organization insight about your contracts. Request a demo now.
Download Whitepaper - Why Convergepoint Contract Management Software is the Ideal Solution for Microsoft 365 Sharepoint Users