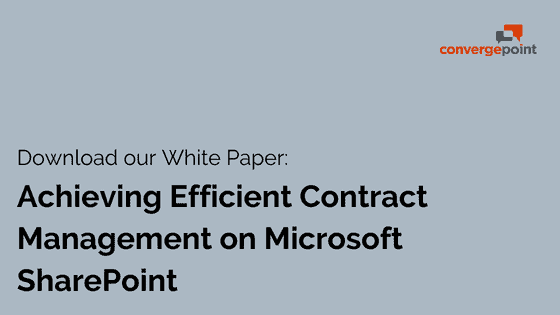 Download the White Paper: Achieving Efficient Contract Management on Microsoft SharePoint
Download this white paper, which outlines the benefits of an efficient contract management system:
The longevity and profitability of your business are determined by how well you negotiate, fulfill, manage, evaluate and renegotiate contracts with customers and partners.
The ConvergePoint Contract Management Software streamlines your legal team's contract management process and helps them handle the full contract management lifecycle, from contract requests, reviews, and approvals through obligation management and renewals. Our Enterprise Contract Management System, built on Microsoft Office 365 – SharePoint Online), automates the contract management process, ensuring you never again have to worry about uneconomical contracts auto-renewing, missed business opportunities, and wasting time searching for and compiling contract information.
Explore common pitfalls and challenges of traditional contract management systems
Discover industry best practices for contract management
Understand what features are important in a contract management system
Learn why SharePoint provides a significant benefit to Contract Management Software
Fill out the form to read the white paper
Download Contract Management White Paper