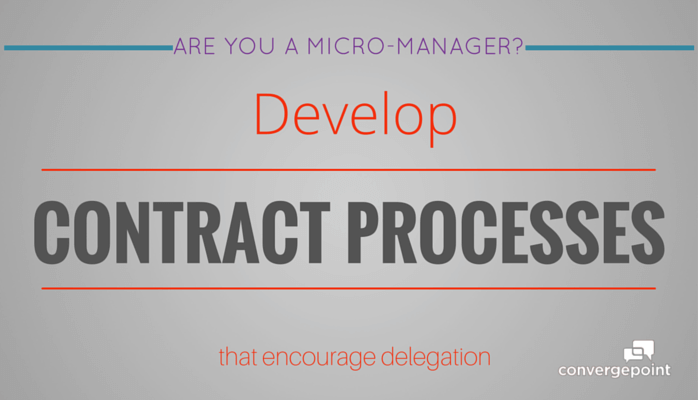 The National Contract Management Association defines micro-managing as "a management style in which a supervisor closely observes or controls the work of an employee" in its 2007 article. No matter what your role in the company, whether entry-level employee or executive leadership, you recognize that micro-managing decreases productivity and employee morale.
At the same time, legal and procurement professionals often find it against their nature to want to delegate — their attention to detail, analytical nature and years of experience make it difficult to entrust others with contracts they can most of the time do faster themselves after having written and executed similar contracts "a million times."
Remember, the name of the role is contract manager, not micro-manager — so what tasks in the contract process can you delegate, and how can an automated contract management system help you hand over those tasks without feeling like you've lost total control?
Determine what tasks are suitable for delegation.
Choose who can handle what tasks — drafters, reviewers and approvers.
With contract requests prioritized for you automatically by dollar amount, eliminate the manual task of sorting and determining which high-value contracts need to be drafted, reviewed and executed first. Save time by not having to sort contracts yourself or double-check someone else's work.
Use the custom workflows of the system to your advantage. Dynamic workflows, combined with user-based control access, will send notifications to the right people only at the right time.

People involved in the contract process will receive an email notification when they have an outstanding task specific to them. You can decide if you want to receive notifications, too, when the next person in the workflow has a task to complete, so you can stay in the loop.
Decide if you'd like to assign contract tasks sequentially or simultaneously.
Set deadlines for each task, with escalation alerts, so you don't have to send people email reminders or hassle them about upcoming due dates.

Rely on the system to track compliance and produce full audit trails, including version histories, revisions and comments.
By tracking employee progress from real-time dashboards, you will no longer interrupt their workflow by constantly asking them for status updates (which also makes people edgy and cagey). You'll show them that you trust them to complete the work, while putting yourself more at ease about delegating tasks.


By delegating contract tasks, you encourage employees to be more accountable for their work, give them opportunities to apply their skills to a project and allow them to grow in their roles and responsibilities. At the same time, you free up your time so you can focus on bigger picture goals for the legal department and building valuable partnerships to improve customer satisfaction.

See how to streamline your contract management by reviewing our How-to Guide: Successfully Establish a Contract Management System.
Download Contract Management White Paper