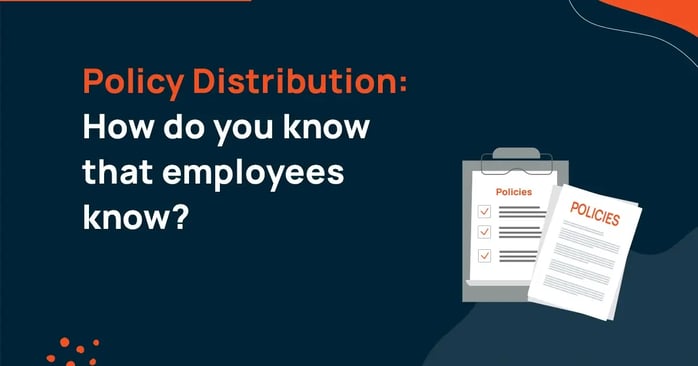 How do you know that they know?
Creating a new policy or updating an existing one can feel like herding cats at times. Tracking authorship and approvals through numerous rounds of revisions involving multiple departments is a challenging and frequently frustrating process. Maintaining control over the inevitable version 'creep' as each contributor seeks to add his or her own preferences into the mix can make the finish line seem even further away.
But you make it to the end, often with a huge sigh of relief. The policy notifications are distributed, the attestations are signed and returned (with some inevitable chasing of the stragglers who were "busy" or "didn't see the email"), and you get to close the book on this policy change and move on to the next one.
However, as compliance continues to escalate as a priority and potential financial risk for your organization, it is becoming clear that a simple confirmation of awareness of the policy change is no longer enough. You may have supported new policies and procedures with comprehensive training programs in the past, but frequent updates typically make refresher trainings cost-prohibitive and highly disruptive to workflow.
How to Show That They Know
So, how do you compile comprehensive data that confirms your people understood the changes that have taken place in that recent policy update, and that they can confidently and clearly verbalize those changes if requested by an auditor? Customizable quiz templates that can either be incorporated into the attestation document, or delivered pre- and post-review of the policy change, can provide hard data that confirms they understand the changes that have been made.
Depending on the topic area and the complexity of the policy change, the quizzes can be customized specifically for each audience. Score-tracking allows you to identify any sections of your population that may need follow-up engagement, and centralized control over the material removes any question as to the integrity of the data being collected.
If you're running your policy creation and management processes on a manual system of spreadsheets and email attachments, the prospect of adding yet another set of documents to be tracked and collected will no doubt seem like a nightmare you can do without. However, if you step back from the day-to-day headaches for a moment, can you honestly say that your current process would stand up to scrutiny in proving that your people fully understand all of those policy changes that have been made in the last year?
Read More: 3 Ways Policy Management Software can Improve Policy Distribution.
Our comprehensive policy creation and management software solutions can help you to upgrade your policy workflow to manage more detailed attestation options with ease. Our customizable quiz templates can be tailored to topic, audience and specific learning objectives. Operating on one secure SharePoint portal using templates built on industry best practices, you can manage every element of policy workflow from creation to ongoing management and revision.
The opportunity to move your manual systems to the next level is closer than you may think. To learn more about our software now available on SharePoint On-Premise, SharePoint Online via Office 365, and as a Software-as-a-Service, schedule a demo now.
Download the Policy White Paper