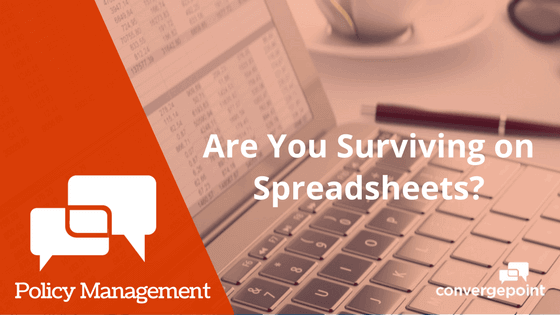 Are you Surviving on Spreadsheets?
Policy management has an interesting relationship with the lifecycle of a company. In the early days, the leadership team ensures that the company is fully compliant with all regulations needed to operate, and all energies are then focused on product and service quality to ensure that all sales targets are met (and hopefully exceeded).
As the company grows, any available capital is spent on supporting that growth – new locations, new machinery, more inventory, more employees, etc. However, 'new' also means new policies and probably new updates to policies that were in place on day one. With no spare capital to upgrade policy management to the same level as the rest of the organization, those spreadsheets that you started with quickly become the foundation of a department that learns to "make do."
The Real Cost of "Making Do"
There's no doubt that spreadsheets have come a long way from the days of Lotus 1-2-3 and VisiCalc, but if they represent the bedrock of your policy management and compliance department, you will probably find that your company has now embraced higher inefficiencies and increased compliance risk without even realizing it.
Consider the value of your employees' time wasted in looking for policy documentation, verifying the version of a work-in-progress update, or chasing assigned personnel for their input on a pending policy change. You may have a row or column in your spreadsheet to tell you who they are, but it won't give you reminder alerts or track the delay in response in real time.
Without central data storage with restricted access, version control can be lost very quickly as assigned contributors make their edits in each round of reviews. Once the policy is completed, which functionality of that spreadsheet will guarantee that the next update begins with that final authorized version rather than an older, incomplete version that somebody found on their desktop?
In the worst case scenario, should something fall through the cracks and the organization ends up out-of-compliance and facing financial penalties, how effective will that multicolored and multi-tabbed spreadsheet perform as hard evidence of your best efforts to stay compliant? There are no points for effort awarded in penalty calculations, and the sight of your overtaxed spreadsheet may do nothing more than underline how little attention your company was giving to the critical topic of compliance.
Our comprehensive Compliance Software Solutions can help you to create that solid handle on your internal processes and procedures and give you the accurate data you need to stay fully compliant with all relevant regulations. Operating on one secure SharePoint portal using templates built on industry best practices, you can manage every element of compliance workflow from policy and contract creation to management and ongoing renewal. Secure access mitigates the risk of loss of version control, and the real-time dashboard provides up-to-the-minute status reports.
Once you have a clear sense of how efficient and cost-effective your compliance procedures can be, settling for minimum compliance will be a thing of the past. To learn more about our software now available on SharePoint On-Premise, SharePoint Online via Office 365, and as a Software-as-a-Service, schedule a demo now.
Download the Policy White Paper