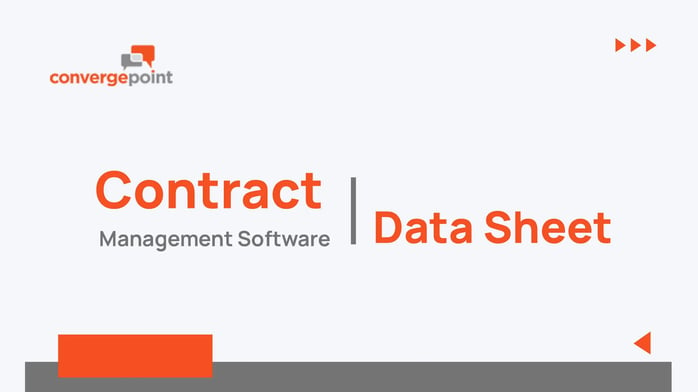 Streamline, Automate, and Take Control of Your Contract Lifecycle With ConvergePoint on Office 365 SharePoint
Discover the power of ConvergePoint Contract Management Software and transform your contract management today. Download our comprehensive data sheet to explore our software features and the value of using AI-powered contract management software on Office 365 SharePoint.
Our state-of-the-art SaaS solution is designed to simplify and optimize every aspect of contract management, from creation and negotiation to execution, compliance, and renewal.
For Legal Professionals: Say goodbye to the risks of non-compliance and legal oversights. Our software on Office 365 SharePoint with AI capabilities ensures every contract aligns with your legal requirements, reducing risk and providing peace of mind.


For Procurement Officers: Streamline your procurement processes with our automated contract management system on SharePoint. Improve supplier relationships, negotiate better deals, and ensure every contract delivers maximum value.


For CFOs: Gain financial oversight like never before. Our software provides real-time insights into your contracts, helping you reduce costs, increase efficiency, and make data-driven decisions.


For IT Directors: The software installs right on top of your Office 365 SharePoint tenant. Rest assured with our top-tier security features, seamless integration capabilities, and compliance with IT policies. Our software is designed to fit perfectly into your existing tech ecosystem.


For Contract Managers: Oversee every contract with ease and efficiency. Automate repetitive tasks, get reminders for key dates, and access contract details with just a few clicks.


For Sales Directors: Close deals faster and improve customer relationships with our streamlined contract management processes.


For Business Operations Managers: Improve cross-functional collaboration and operational efficiency with our centralized contract repository and easy-to-use interface.


For Compliance Managers: Track and ensure compliance effortlessly. Our software helps you adhere to both internal and external rules and regulations, making compliance easier than ever.
Join the future of contract management with ConvergePoint on Office 365 SharePoint. Download the datasheet by filling out the form on the page.
Download Contract Management Data Sheet