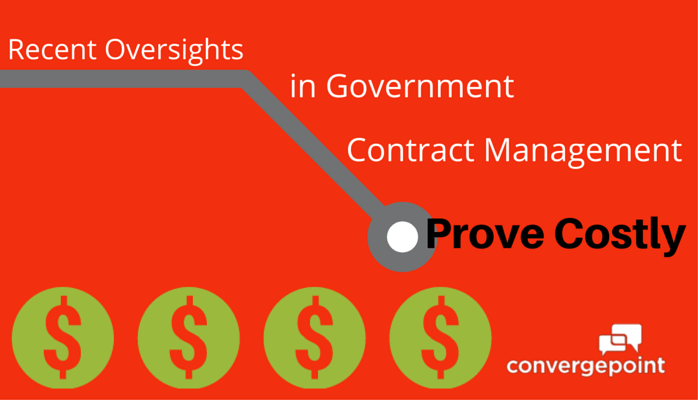 Recently, audits of local and state government agencies — in California, Massachusetts, Texas and elsewhere — have revealed costly oversights in their contract management processes:
Entering into contracts with entities that have ties to agency staff, resulting in conflicts of interest and thus contract abuse.
Not documenting or being able to produce required paperwork related to the bid and contract processes, or detailed documentation for contract amendments.
Failing to see that the vendor submitted timely, itemized bills for its services, leading to auditors questioning costs and opening the door for potential misspending.
Not monitoring purchasing contracts for compliance, leaving the potential for overpayments or receiving substandard good and services (or not receiving them at all).
Poorly managing current contracts, resulting in costs that have more than doubled since going into effect,
Authorizing retroactive contracts for additional services the vendor performed after contracts had expired and the approved money had already been spent,
These issues in the contract management system are not just found in government agencies, but also plague private and public companies as well. And Complying with Government Contracts can be done using policy management also, Spokespeople for those agencies have pledged to take additional measures to ensure compliance and greater clarity in their contract management systems, including:
Designate specific staff members to oversee contracts, especially if contracts affect multiple departments, and clearly define their individual responsibilities,
Better train contract administrators on the contract bid process, how to manage contract obligations and renewals, and compliance and ethics.
Correct its policies and procedures with regards to the contract management process
Provide contract managers with the right tools to analyze and organize real-time reports on spend data, compliance, vendor performance and other critical information
Add new layers of review and signatures
Take measures to enforce the value of contracts.
Require additional reporting on contract performance.
While one city department also plans to establish a new contract management system, all of the agencies should consider reevaluating their current contract processes and implementing new or adjusting their systems. Contract Management Software can help ensure contract administrators are assigned specific roles in the creation or management processes through custom workflows; prioritize contract requests by dollar amount; manage the creation, review, signature, contractual obligation, renewal and expiration processes; send reminders and notifications when upcoming tasks, contractual obligations or renewals are due; produce real-time, ad hoc reports; and store all metadata, supporting documents, version history, surrounding discussions for auditing and compliance purposes.
Learn how an efficient contract management system can prevent costly oversights and costly non-compliance fines by reading our White Paper: Achieving Efficient Contract Lifecycle Management.
Download Contract Management White Paper