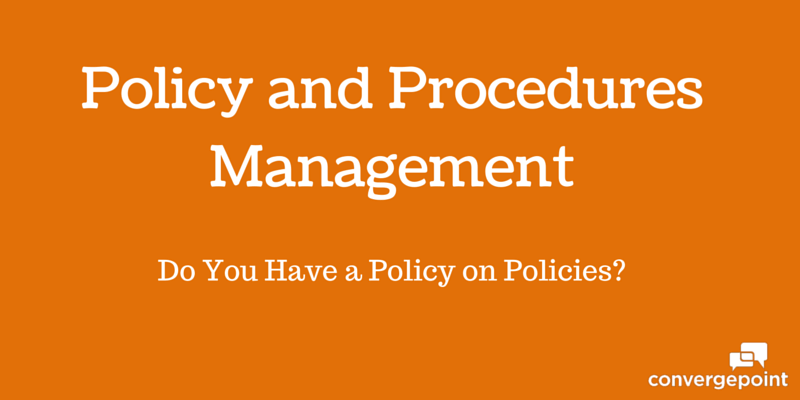 SharePoint Compliance – Policy and Procedures Management
If you are responsible for the creation, monitoring, and revision of all operational policies for your organization, being asked if you have a "policy on policies," may seem like a totally nonsensical question. Everything you do is about policies, so why would you need another one?
However, if you consider why policies are created in the first place, the question is not so nonsensical. Policies are written to control specific aspects of organizational function. They are designed to provide a clear framework that governs the origination, design, development, authorization, implementation, review and revision, of any number of practices and procedures within the organization. Having such a framework in place ensures consistent performance and compliance.
Developing a Policy Framework
Policies don't suddenly appear out of thin air, although after leading your team through a particularly complex policy creation project you might wish that they did. They follow the same seven steps of the organizational functions they are written to control:
Origination, design, and development are governed by industry-specific regulations and established management practices.
Authorization, implementation, review, and revision, are governed by the same key factors.
Without a detailed framework to manage each of those seven steps, policy creation and administration devolves into ad hoc management where every request for a new or revised policy generates a crisis response. Priorities are set according to how fast the compliance deadline is approaching; and personnel are assigned on the basis of "all hands on deck." Survival in such a chaotic state is possible in the short-term, but long-term compliance requires a detailed framework that specifies the parameters and protocols for each of those seven steps.
Effective Policy Creation
Responsibilities, authorizations, and agreed project timelines must be in place before any policy creation or revision project is initiated. The type of policy may vary according to the specific organizational function or practice being managed, but how that policy is created or revised must be sufficiently standardized for the process to have any chance of effective management and improvement over each subsequent iteration.
If you are struggling in survival mode and managing your policies through an "all hands on deck," approach, it may be time to step back and formalize a policy on policies. Your internal customers may resent having to abide by a detailed manual that specifies the steps they must now follow, but the ability to develop, implement, review, and revise policies in a calm and strategic manner going forward should help them to adjust.
Our comprehensive policy and procedure management and policy training software solutions can help you to develop and manage a formal policy workflow. Operating on your existing SharePoint 2013 orOffice 365 SharePoint platform and using software built on industry best practices, your team can manage access through role-based permissions. A detailed version history page provides formal confirmation of version status that supports every element of policy workflow from creation to ongoing management and revision.
The opportunity to move your manual systems to the next level is closer than you may think. To learn more about our software now available on SharePoint On-Premise, SharePoint Online via Office 365, and as a Software-as-a-Service, schedule a demo now.
Get a latest copy of Streamlining Policy Management Whitepaper for Large organization