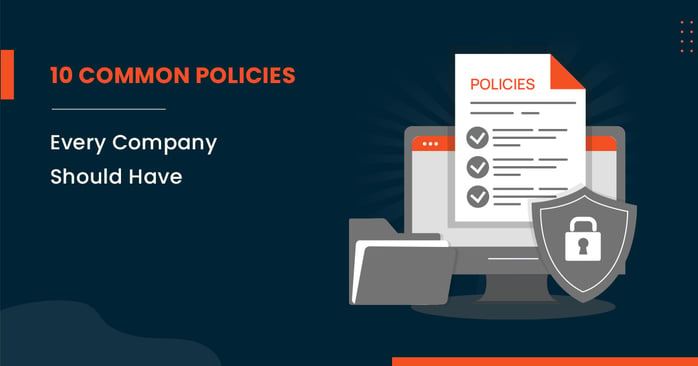 When your business expands quickly, it can be hard to stay on top of policy creation and management. Sure, there may be quite a few unwritten rules that employees seem to be aware of and your organization just hasn't gotten around to putting them on paper yet, but those rules tend to cause more confusion than not. Just like the telephone game, we played as kids, new rules heard "through the grapevine" are easily not shared correctly, misinterpreted, and misunderstood.
Employees need consistent company policies to guide them on their roles and responsibilities, as well as the company's overarching business principles, ethics and beliefs — for compliance reasons and to ensure a healthy company culture. Written policies and procedures also help protect your company from potential legal action.
Creating written policies may seem like an overwhelming task, especially when you have other HR tasks to manage, but here are a few necessary policies to get you started:
10 Policies All Companies Should Have
Personnel Policies – Clearly state business hours, code of conduct, terms of employment (hiring and termination), wages or salary (and bonuses, if any), insurance and health benefits, paid vs. unpaid vacation days, sick leave, and retirement.


Disciplinary Action Policies – Address issues of honesty, performance, safety, and misconduct, and determine what constitutes a violation of company policy, as well as how employees will be disciplined if they violate certain rules.


Safety Policies– Use industry best practices and relevant local, state, and federal laws as guidelines to create rules detailing what safe behavior at work looks like, how to use safety equipment, how to report safety hazards, etc.


Technology Policies – Establish what's acceptable and what's not in regards to the Internet, email, and social media usage for personal purposes at work.


Privacy Policies– Protect employees, the company, and your customers by establishing a policy that encourages transparency and trust with your customers.


Payment Policies – Determine the terms for customers and vendors to do business with your company. Set an acceptable amount of time for payment, and establish consequences when payment is overdue or not received.

Related Article :

Six Do's and Don'ts When Creating Company Policies



Confidentiality Policies – Protect sensitive information, and be sure to cover relationships with vendors, customers, and other suppliers.


Whistleblower Policy – Make sure to have a no-retaliation policy to protect your employees and the company.


Employee Performance Policies – Define the role of every employee, including their level of responsibility, amount of authority for decision-making, overarching goals and specific tasks. Identify clear methods for monitoring performance and developing employees through training.


Document and Records Retention Policies– Create structured policies for document retention and storage based on local, state, and federal requirements.
When developing policies, be sure to consult local, state and federal regulations, as well as industry best practices to ensure the policies you create are compliant. 10 policy templates basic that should be included when creating a policy.
Also be sure to give yourself enough leeway and not write definitive, binding statements; otherwise, you can be held liable if your manager does not follow the exact, outlined steps. It's also important that you properly train employees on policies and ensure employees understand and acknowledge them. That way, there's less chance of confusion and misunderstanding.
Download White Paper - Leveraging Microsoft Office 365 for Policies and Procedures Management