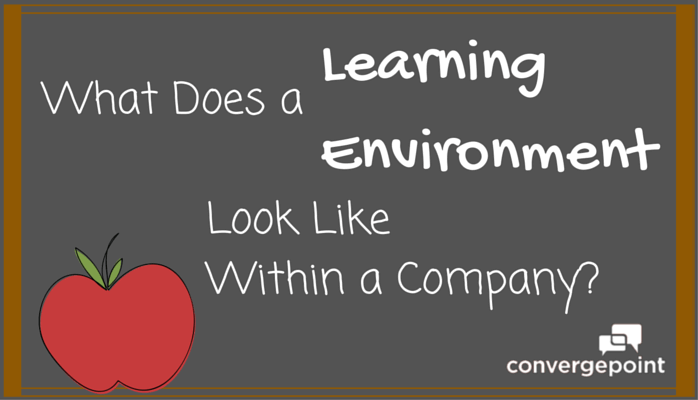 One of the best ways to improve employee retention is to not just train them initially, but constantly develop them by creating a work environment that fosters communication and learning. Both people and your company change over time, and if you're looking to build long-term relationships, it's important that you understand how each other is developing and you grow in the same direction — by constantly communicating your priorities and offering ongoing training.
What does a learning environment look like within a company?
Understand that learning is a continual process, not a one-off event. Opportunities arise all the time — it's a matter of recognizing them and then pairing them with your employees' skills or interests. Have an employee interested in event management? Use the next company picnic or holiday party as a learning opportunity.
Everyone learns differently, and you never know when someone might have a light bulb moment about a task or process. Offer multiple ways for employees to learn and access information:
Mentoring – Some people learn best by having someone walk them through a task, while others really come to understand a task after having to show someone how to do it.
Lunch 'n' Learns – Brief sessions can help educate employees on a recent topic, as well as serve as a time for team-building.
Company Intranet – Are your company handbook, policies and procedures, training materials and other reference guides easily accessible and searchable in print and on the computer?

Many employees never access their company intranet or share drives because it's confusing and cumbersome to navigate, and it's hard to find information. Get employee feedback on your current system: How often do they access it? What parts of the site do they use most often? What do they like/dislike about it? What features, functionality or materials would they add to the site?
When looking at Intranets, employee training management systems or policy management systems, choose a software that encourages employees to access it with its user-friendliness, simple navigation, automated notifications and streamlined workflows. Will your IT team be able to maintain the system on its own? If your employees are already comfortable with Microsoft Outlook, Office and Active Directory, consider migrating to a system they're already familiar with and that will integrate well with other Microsoft products, such as SharePoint.See how proper training on policies and procedures enables your organization to hold your employees accountable and keep them compliant.

If you're already on SharePoint, even better — sometimes employees see SharePoint, again, as cumbersome and difficult, but the right SharePoint provider can build and offer a tool that makes SharePoint simple and easy to navigate and search for employees, and easy to manage for IT teams.

Discussion Boards – When employees have questions, do they know who to ask or where to turn? Is there a centralized place where their questions can be housed, discussed and shared, so employees can learn from each other's questions? Where can employees offer their suggestions or feedback? Again, look for a collaboration tool that promotes discussion and communication — one where employees can easily go back and search to reference previously discussed questions. Also offer them a place to provide recommendations based on their experiences.
Include policies on employee development and procedures on job tasks. Show that your company values learning and improvement by creating policies about professional development, as well as procedures on job functions for convenience.
Use mistakes or unplanned moments as teaching opportunities. They also serve as a great opportunity to reevaluate and refine your current policies and procedures, as well as get employee input.
Define how often employees should receive refresher training and what types of training and development programs should be completed (once, every year, every two years, etc.)
Rely on a policy management system to test your employees understanding of policies, and send automated notifications when employees need to be re-tested on ongoing or updated policies.
Read More: How To Make Employee Training Less Unpopular
Giving your employees the tools and opportunities to continually learn and improve their skills set shows them that you support their building long-term careers — ideally with your organization. In the short term, proper training ensures your employees are qualified, more compliant and productive. In the long term, you invest in employees who will hopefully use their newly learned skills to help grow and better your company.
Download the White Paper - Leveraging Microsoft Office 365 for Policies and Procedures Management