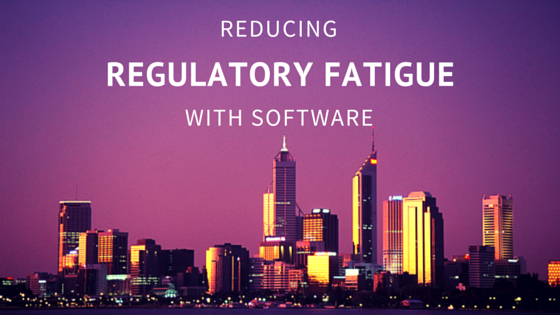 Reducing Regulatory Fatigue Using Software
Achieve Best Practices in Regulatory Compliance Management within SharePoint.
The Thomson Reuters 2015 Annual Cost of Compliance Survey outlines some extremely challenging times for compliance practitioners. Managing increased responsibilities within the organization, combined with a never-ending deluge of new and/or updated regulations, while fighting constant budget battles to justify the cost of compliance resources that don't immediately connect to the bottom line, is resulting in a heightened sense of 'regulatory fatigue'.
With the Department of Justice recently announcing a consolidated $5.8 billion in fines against five banks for foreign exchange market manipulations, boards of directors are starting to realize that the days of 'a slap on the wrist' are over. In place of the standard practice of "no admission or denial of wrongdoing," those fines included a clear admission of guilt, which also serves as a definitive warning that a brief mea culpa while blaming the transgressions on your compliance staff, with a promise to do better, isn't going to work anymore.
Of the 600 compliance practitioners surveyed, "snowballing regulations" were identified as a key issue, with "70 per cent of firms expecting regulators to publish even more regulatory information in the next year, with 28 per cent expecting significantly more." In the world of business, however, more work doesn't automatically equate to more resources to handle that work. Growing awareness of the need for greater compliance oversight at the executive level isn't getting translated into budgetary support for that oversight. In addition, the availability of suitably qualified and experienced compliance personnel continues to be a challenge, and with greater demand comes higher prices, where "69 per cent of respondents expect the cost of senior compliance professional to increase in 2015."
The full impact of "snowballing regulations" involves much more than simple checklist reviews of new regulatory directives. Prompt correction of non-compliance issues to minimize the risk of sanctions can be a huge challenge if much of that non-compliance is related to homegrown policies and practices. Being expected to "do the best with what you have," can be equally challenging if the organization is facing significant structural changes to meet the requirements of new rules and regulations.
External pressures can be magnified by internal ones. Lack of budgetary support often results in the practice of 'making do, or 'getting by' to the point where minimal compliance becomes the order of the day or, even worse, the risks of financial penalties for non-compliance are justified against nothing more than the odds of not getting caught. It's no wonder that 59 per cent of all respondents "expect the personal liability of compliance officers to increase in 2015, with 15 per cent expecting a significant increase."
Without a comprehensive compliance management system in place to ensure that regulatory compliance is built in from the ground-up, the road ahead for compliance practitioners is likely to become even more challenging. Sanctions can only be mitigated by clear evidence of proactive systems and consistent detailed oversight.
If your limited resources are stretched across a collection of policies, processes and procedures, isn't it time to invest in a solution that maximizes the productivity and dependability of those resources?
ConvergePoint (www.convergepoint.org) is the leading provider of compliance software solutions on the Microsoft SharePoint platform.Compliance Management Software Solutions offered include Policy Management Software, Contract Management Software ,Conflict of Interest Disclosure and Employee Health and Safety Training Management Software.
Download Policy Management WhitePaper