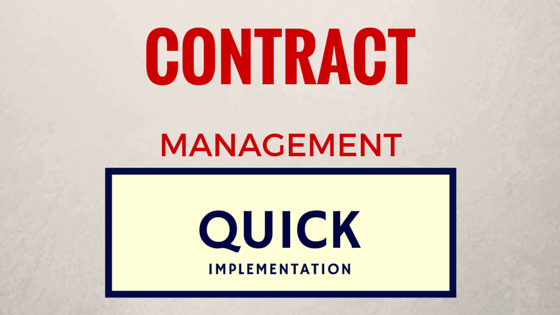 Contract Management – Quick Implementation
It never gets less exciting when a new client comes on board. Clients are eager to get started playing with their new contract management system, and our IT support team can't wait to show them all the tools, tips and tricks to using the software.
What's the quickest way to the contract management system implemented and your team up and running on it? Unlike other products, ConvergePoint Contract Management software takes days or weeks, not months, to implement — and really, it's up to you and your team's schedule.
To ensure you have the smoothest, fastest Contract Lifecycle Management implementation:
Make time for the software implementation, deployment and document migration processes.
Develop a realistic schedule, and go over it with our IT support team and your team to ensure everyone's on the same page. Set measurable goals and milestones, and then work to ensure they're met every step of the way.
Discuss with our IT support team which of your team members need to be involved in each meeting and training session. That way, you can ensure your team's time is used efficiently and you get the most out of your training sessions.
Read and execute the pre-deployment requirements carefully. If you have any questions before, during or after deployment, be sure to ask our IT support team. It will save you and both of our IT teams' time later if they need to address concerns and troubleshoot issues up front.
Keep upper management in the loop on how implementation, deployment and document migration are progressing. Let them know if things are moving quicker or slower than expected.
The software allows for quite a bit of configurability and flexibility, which are great benefits. When working with the IT support team to configure it and exploring options on how the workflows can be set up, keep in mind not only your current business unit needs, but also consider how your processes will evolve. Don't configure the software so tightly so it can't accommodate the growth of your team, processes and number of documents.
The most important key to successful contract management software implementation is getting the buy-in from both your legal team and IT team. Encourage them to play with it, use it and ask questions about it so they can become more comfortable with the system.
Want to learn how else you can quickly attain your contract management goals? Contact us with your questions or download our free How-to Guide: Successfully Establish a Contract Management System.
Download Whitepaper - 5 Ways ConvergePoint Contract Management Software Can Boost Your Office 365 SharePoint