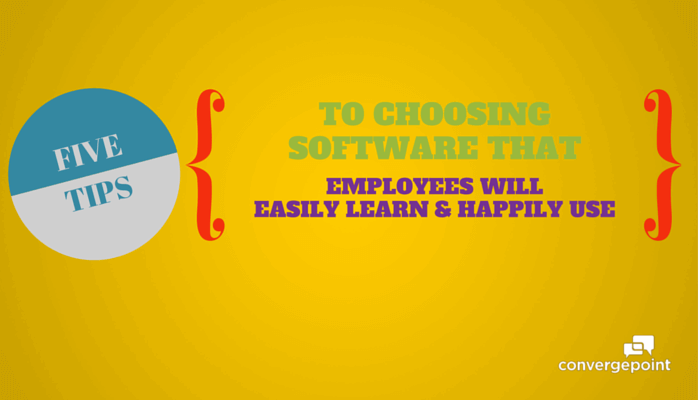 Employee Training: 5 Tips to Choosing Software that Employees Will Happily Train On
As your organization expands, so does the onboarding and employee training process. When the company outgrows its current method of managing training materials and records in Microsoft PowerPoint and Excel, three-ring binders, printed handouts and scanned PDFs, HR, safety, compliance and risk management departments often turn to the IT team for a solution.
Looking into employee training software doesn't have to be a huge undertaking for your IT team — nor does managing the software itself once implemented. Here are a few considerations to make when evaluating employee training software vendors and options:
Make your employees' and your lives easier by choosing a system that is compatible with their existing workflows. For example, if your organization already uses Microsoft SharePoint, consider a product that is built on SharePoint. Not only will a SharePoint-based system integrate with tools employees are already comfortable with, such as Microsoft Active Directory, Exchange and Office, but you'll then spend less time training employees on the software because they're already familiar with SharePoint.
Before the demo, meet with whoever plans to sit in on the demo to establish what they'd like to get out of the software. You want each department manager (IT, HR, safety, compliance and risk management) to evaluate the software's usefulness and user-friendliness from their own perspectives and the needs of their respective teams, but you also want to ensure they all have the same end goal in mind.
Along those same lines, consider your employees and managers' needs, and match them to the product features. Look at what types of training documentation and records the system will need to manage, as well as what types of tracking, reporting and metrics managers need to compile — and ensure the software is capable of handling them. Find software, such as ConvergePoint's Employee Training Software, that allows you to link to internal and external training materials, including government or educational websites, and enables you to store training materials in multiple file formats (Word, audio, video, etc.). The software should also allow for advanced search functionality, so employees can easily access and search the system to find and reference documents as necessary.
Use the live demo meeting as a time to evaluate how friendly and flexible the software vendor is. Have an IT manager, an HR, safety or compliance manager and a key decision-maker in the meeting to get a feel for the vendor's personality and to determine if you can all work together towards a common objective. Does the vendor have a dedicated IT support team to answer your questions? Is the vendor able to speak IT language to the IT team and non-IT language to other departments? Can they offer client success stories of clients who were in a similar industry or had similar challenges to yours?
Ask about the pricing model. If you've ever remodeled part of your home and taken bids from contractors, you know there are two main ways projects are quoted — you're either given a lower upfront cost that ends up being higher in the end due to change orders, markups and add-ons; or they give you the total, actual cost upfront, which appears more expensive than the other bids, but might end up a cheaper in the end, with fewer change orders and hidden costs. Software pricing is often similarly quoted. With this information in mind, ask if there are additional costs associated with software upgrades, adding more users, etc. The most important factor to consider, though, is your return on investment and how much use your employees and managers will get out of the software.
How can you measure the ROI of employee training software? Take a look at our white paper below to discover how:
Download Incident Management Checklist