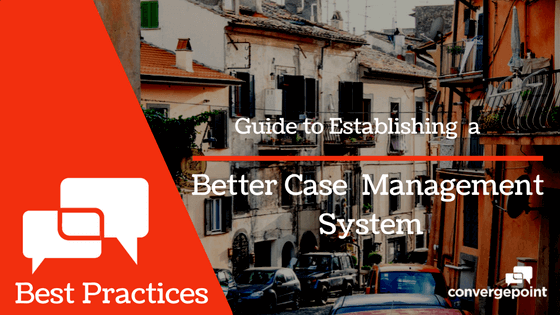 Compliance professionals and HR managers don't always have the processes in place to handle new reports or investigations. In these events, the lack of appropriate checks and processes can hurt an organization beyond the scope of the original report. While some manage cases on an individual basis, establishing proper case management processes can streamline the reporting, investigating, review and resolution phases for compliance and HR managers.
Implementing case management processes in your organization can create a formula for compliance and HR managers to use in the future. Not only will cases be resolved in a timelier manner with fewer consequences, your legal department will save lots of resources and avoid wasting time on unwarranted cases.
When creating your case management workflows, consider implementing these four steps:
1. Identifying which cases need further action
When an employee first reports a new case, it is important for the organization to respond quickly to avoid further complications. Once the report or complaint is received by your company's hotline or other feedback source, having structured case management processes in place will allow the right HR, risk and compliance case managers to be assigned based on type and priority of the case.
2.Gather all the facts of the case
Since cases vary on severity and topic, understanding which ones to prioritize and which to avoid investigating is highly critical. Taking time to speak with the parties involved and gathering all possible information will provide vital information into the report or allegation. Once all the information is gathered, a decision can be made if an investigation is required. If a decision is made to move ahead with the investigation, an investigator will need to be involved to dig deeper into the facts. If not, make sure your organization has processes in place to detail your reasoning as to why a report was not acted upon.
3. Assign cases to the right investigator
If a case is in need of investigation, then the case manager should have the ability to quickly assign an investigator deemed appropriate in regards to sensitive elements of the investigation. For example, when investigating a case involving harassment, finding a gender-sensitive case manager with low bias concerning the parties involved might be crucial for the investigation.
4. Ensure all investigation data is captured
Once an investigator is selected, planning out the investigation phase is the next course of action.
Deciding on a timeline for the proceedings, along with which parties to interview or gather information from, is necessary. In regards to interviewing parties, take into account where, how and when it will be most convenient for them to talk with you. Making them feel comfortable can help your investigation head into the next phase will relative ease. Make sure to properly and safely gather notes and evidence and store it in a case management system of some sort.
5. Establish a proper review of findings
Once the case manager and the investigator have had a chance to gather and capture the findings, ensure that you have a stringent review process that assess the findings and provide recommendations for resolutions for the specific case. This would also provide reviewers an opportunity to ensure that remedies are established to prevent future infractions of a similar nature.
6. Resolve the case
After the investigation and review is complete, the case manager or appropriate decision maker will have the information to make a final decision on the investigation and decide on a proper course of action. If the investigation provided little evidence, spend more time gathering more information and interviewing the parties involved. It is far better to spend more time on the investigation rather than taking action and enforcing consequences when the party is not at fault.
Ensuring that each case has a complete audit trail of each of the above steps is key to a good case management system. HR and Compliance Teams should be able to quickly access all of the information for further reference or in the likelihood that further legal action is required.
The ability to easily report and assess cases based on incident type is also highly desirable. It will provide the appropriate teams and management a quick view of the kind of incidents happening within an organization and the ability to put policies and procedures in place to ensure that such infractions are minimized.
Having the proper case management processes in place is the only way to ensure the appropriate measures and consequences are applied. When new case management processes are created in your organization, you'll need a platform to properly handle all aspects in regards to it.
How can ConvergePoint help?
ConvergePoint's Case Management Software streamlines the entire case management processes by allowing employees to report cases, HR and compliance case managers to review and investigate them, and leadership to analyze all pertinent information to quickly provide resolutions to cases and implement measures to avoid further incidents. The software provides an easy way keeps track of all past and current cases, along with enabling users to record, track, investigate, manage and resolve cases.
Since the ConvergePoint Case Management Software is built as an Add In on Microsoft SharePoint and Office 365, organizations can easily add this new functionality to their existing SharePoint ecosystem and utilize the powerful collaboration features within it.
Talk to a compliance specialist to learn how our Case Management expertise can be applied to your organization by scheduling a demo now.
Download Incident Management Checklist