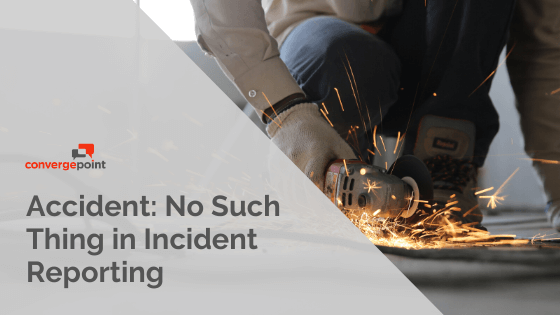 Incident investigation is often only as good as the incident report. An incomplete or shoddy incident report will hamper the entire investigation, both in terms of its perceived execution and its stated outcomes. How can one trust an incident investigation if the incident report is sub-par?
All too often, an incident investigator can be hampered by the very document or template that they are using to compile an incident report. The document or template may be cumbersome by being too lengthy or overly detailed. On the other hand, it may lack important information that a comprehensive incident investigation demands.
Accident? What Accident?
One word in particular can be very problematic in incident reporting and that is the word "accident." What constitutes an "accident" in safety incident reporting is itself problematic. The definition by OSHA and other organizations is that an accident is, "A situation that results in medical attention (treatment beyond first aid) and/or lost time (missed work)." This definition requires that there must be physical harm (i.e. with treatment beyond first aid) and possibly lost hours, too. The counterpoint to this definition is that incidents are usually defined as those events in which serious physical harm did not occur and lost hours were minimal.
This differs from another definition, one popular in the UK and Australia, that contends that an accident is defined as any "unplanned, unforeseen, or unexpected event that has a negative effect on the activities of an individual or organization." This is a broader definition and need not include physical harm or property damage, unlike the former definition. In this definition, the tendency is for "accident" and "incident" to be used interchangeably, without clear distinctions between the two.
There are problems with both definitions. The problem with the first definition is that it requires physical harm beyond a certain threshold. Why should the word "accident" only be related to more serious outcomes? Surely an "accident" could result in even more minor injuries? And, likewise, why should an "incident" only result in property damage and not physical harm to a person of any kind?
The problem with the second, more holistic definition is with the focus on words such as "unplanned" or "unforeseen" or "unexpected." As any safety incident investigator will quickly confirm, most so-called "accidents" could indeed have objectively been foreseen or expected. The implication is that accidents don't simply happen out of the blue. The second definition certainly implies that.
There are other definitions of what constitutes an accident, of course. But these are the two prevalent definitions in most incident reporting guides. It's contended that both definitions are not only problematic but are unnecessary. That is, the very word "accident" needs to be relegated to the past.
'Accident,' to 'Incident'
There's no place in modern safety incident reporting for the word "accident" because it's neither instructive nor necessary. The word "incident" is neutral and devoid of emotion, whereas "accident" evokes emotion and, of more concern, denotes an event that was due to fate or chance.
Policies and procedures for incident investigation and reporting should be devoid of language that promotes the idea events occur due to subjective criteria such as fate or chance or that they occur due to unforeseen events. The entire purpose of safety risk management is to foresee potential risk, including incidents, wherever reasonably possible. This should also be reflected in the applicable policies and procedures.
ConvergePoint offers comprehensive Incident Management and Policy Management solutions that integrate seamlessly with Microsoft SharePoint and Office 365. Schedule a demo today.
Download Incident Management Checklist