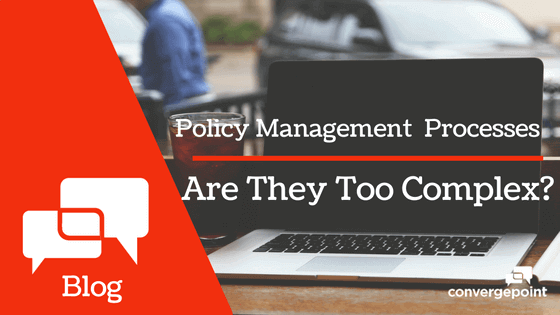 Are Your Policy Management Processes too Complex?
Any complicated business process requires a team of professionals to monitor and handle properly. The same applies with complex policy management processes, as teams of compliance and policy experts micro-manage every element associated with these processes on a daily basis. Feature-rich policy management processes give tremendous flexibility to your organization to keep up with your policies and procedures, and allow you to expand on these them as your business continues growing.
However, could your policy management processes be too complicated and overly confusing? Having the ability to have custom and powerful processes is exciting for any company, but could they become a vulnerability to your organization? Including all of your employees?
Compliance and policy managers should take a good look at whether their current policies and procedures are too complex and prohibitive for organizational growth. Simplifying and streamlining all regulatory policies and procedures can accelerate the creation, distribution and acknowledgement phases while communicating these expectations to your employees. When analyzing your policy management processes, consider the following:
Trim Down Overly Long Policies and Processes
When creating the first drafts of your policies and procedures, your team will have a long list of elements that must be incorporated. Fleshing them out and making sure they are thorough and address every key point is imperative, but remember to keep it concise. The more pages your policies and procedures are, the harder it will be to understand them and gain insight from, especially with your employees. If some of the information is not crucial, consider other channels to communicate it, like videos, manuals, and other visual content.
Learn More: Six Do's and Don'ts When Creating Company Policies
Leave Out Unnecessary Parties
The more eyes on your policies and procedures, the more steps involved in the process to take them along the creation, distribution and acknowledgement phases. Organizing all of these parties to be on the same page can be a tedious and time-consuming task, delaying your policy management processes even longer. Since many materials and documents are exchanged during the processes, complications and issues are more likely to occur. Consolidating your policy management processes with fewer people can help simplify them while still retaining all needed key points and information.
Monitor the Number of Reviews and Checks
Policy management processes tend to feature a large number of steps, reviews and inspections for relevant parties to take a look at. Although an organization wants their processes to be thorough, having unnecessary steps further slows down the process. Schedule reviews and checks as you see fit, but remember not to overdo them in fear of further complicating your policy management processes. Instead, try implementing reviews and checks at critical points in your processes, rather than scheduling them at every opportunity you get. You will save lots of time and only implicate the necessary parties.
Simplify and Shorten Your Processes
Communicating your policies and procedures across your entire organization is challenging considering the scope of all your employees. If your processes are too complicated to read, chances are your expectations are not coming across to your employees. Strive to keep your policies and procedures short and concise to ensure easy readability and to break up certain sections. Your employees will appreciate the fact they are able to fully understand your organizational policies and procedures, along with avoiding any miscommunication or confusion along the way.
Read More: 3 Ways Policy Management Software Can Improve Policy Distribution
Another method of streamlining and simplifying your policy management processes is through ConvergePoint's Policy Management Software and Office 365 Add-In . Our solutions manage the full policies and procedures lifecycle of your organization and allow you to gain a firm grasp on the policy creation, distribution and acknowledgement phases. Additionally, our policy management solutions help your organization reach regulatory compliance while effectively communicating your expectations.
Read More: Now Time To Test Policy Management System Effectiveness
Download the Policy White Paper