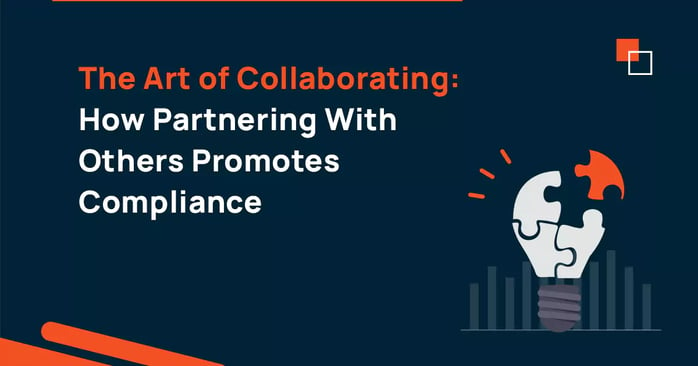 How partnering with others promotes compliance
When it comes to handling your organization's most critical policy and procedure documents, collaboration is what drives success. It's the spark that ignites constructive observations and diverse thought, and it's the process that paves the way for quality and compliant results.
Consider these tips to conducive collaboration:
1. Ensure Clarity in
Context
It's important to make sure the language is clear and the message leaves no room for misinterpretation when creating a new policy or procedure. The same can be said about the project itself. Relevant parties should work together to create a final document that answers "who, what, why, where, when" and especially "how." The team will also need to delegate assignments and action items with realistic deadlines and follow ups to ensure deliverables make their deadlines. The sooner new policy or procedures roll out, the sooner your organization can ensure compliance and safety protocol are met.
2. Align Priorities
Everyone will have a different list of priorities governing their individual availability for this project—it's unlikely creating new policies or procedures is everyone's sole purpose in the organization. Effective collaboration requires that the individual perspectives of each team member must arrive at a common priority for the organizational goal. While the project may well have come at the absolute worst time for some of the team members, that should prompt constant communication rather than evasive behavior. Each member of the team offers valuable insight critical to providing a comprehensive policy or procedure.
3. Build Trust
There is no time built into the schedule for key members to be courted or cajoled into participation. Be direct—even with top executives. Conflicting timelines for projects may be at issue along with other priorities—either planned or unplanned. Make sure everyone on the team feels comfortable speaking openly and honestly without fear of condemnation or reprisal.
4. Respect
Your Team
Team members must respect each other in order to achieve the intimacy of blunt dialog. For the team to be effective, everyone's expertise in his or her respective department must be respected and welcomed in every discussion. This will encourage diversity and inclusion naturally, and will lead to a more successful policy outcome as a result.
5. Don't Lose
Focus
Respectful and direct dialog may be crucial, but a lot of time can be wasted if everyone is too busy making allowances or covering for others on the team. Don't lose focus of the endgame—creating policies and procedures your organization's employees will adopt and follow. Effective collaboration requires an action-orientation. The team was brought together for a purpose, and there is a hard delivery deadline that is fast approaching. Don't miss critical deadlines by overindulging busy peers on the team.
Related Article: 5 Keys To Effective Policies And Procedures Collaboration
ConvergePoint offers  policy management software designed to help you maximize the effectiveness of your policy workflow. Collaboration tools are built in to make it easy to work with teams large and small. To learn more about our software, schedule a demo today.
Download the Policy White Paper