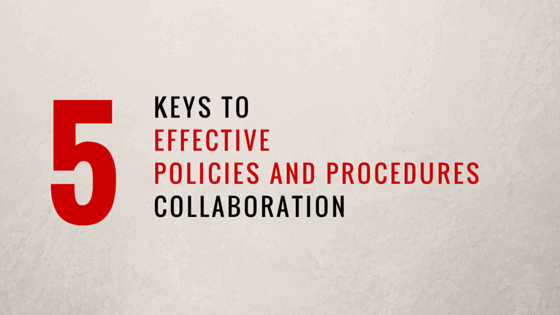 5 Keys to Effective Collaboration
Policy creation is a collaborative process. Gathering the input of all departments involved, and then managing the editing and review of multiple draft versions in order to arrive at a definitive 'approved' version requires a level of interaction that is typically underserved by emails and voicemails alone. If constant email reminders, and increasingly tense voicemail messages aren't proving to be effective, it's time to consider your approach to collaboration:
Context
Whether the creation of a new policy or the revision of an existing one is a regular event or a one-off project initiative, all team members must be able to reach a point of commonality within the context of the project. Knowing the 'who, what, why, where, and when,' is a fundamental requirement for effective collaboration. Managing the 'how' will prove how effective the team will be.
Perspective
Everyone will have a different list of priorities that will govern their individual availability for this project. As you get closer to the delivery deadline, the typical response is to escalate the intensity of emails and voicemails in an attempt to raise the respective ranking of this project on everyone's individual list – usually to no avail. Effective collaboration requires that the individual perspectives of each team member must arrive at a common priority for the organizational goal. The timing of the project may well have come at the absolute worst time for some of the team members, but that should prompt communication rather than evasive behavior.
Intimacy
Project timelines don't include time for key members to be courted or cajoled into participation. Frank dialog is the order of the day. Reaching that level of intimacy to where you can dispense with the face-saving and positioning of internal office politics can often be the biggest obstacle to effective collaboration. Accepting assignments to a new project without first making it known that your department is already overworked and under-resourced would be unheard of. After all, being available to take on more work without complaint would imply that you have excess capacity in your department. Effective collaboration demands that everyone on the team can speak openly and honestly without fear of condemnation or reprisal.
Respect
Achieving the intimacy of frank dialog depends on respect. This new project may be one of many on your current to-do list, and there may be many more in the future. It's unlikely, therefore, that long-term friendships and anniversary dinners will come out of this one project. However, for the team to be effective, everyone's expertise in his or her respective department must be respected and welcomed in every discussion.
Focus
It is possible to take collaboration too far. A respectful and frank dialog may be critical, but too much time can be wasted if everyone is too busy respecting everyone else. Effective collaboration requires an action orientation. The team was brought together for a purpose, and there is a hard delivery deadline that is fast approaching. Losing sight of that in the face of interactive meetings between valued peers undermines the reason why the team was brought together in the first place.
Our
policy creation and management software
products are designed to help you maximize the effectiveness of your policy workflow. Combining our SharePoint platform with Active Directory integration will enable your organization to move beyond curt emails and tense voicemails by clearly delineating individual responsibilities in each step of the policy workflow.
ConvergePoint
, the leading Compliance solution provider on Microsoft SharePoint , boasts five full-featured software products for the complete life-cycle management of your Policies Procedures, Contract Management, Conflict of Interest Disclosures Incident Tracking . Extend your existing Microsoft Office 365 so you can access the power of ConvergePoint whether or not you have SharePoint. With workflow builders, version control, audit trails, keyword search, custom data fields, dashboards, reporting, and more, ConvergePoint provides industry
best practices
and U.S. based support.
Download the White Paper - Leveraging Microsoft Office 365 for Policies and Procedures Management