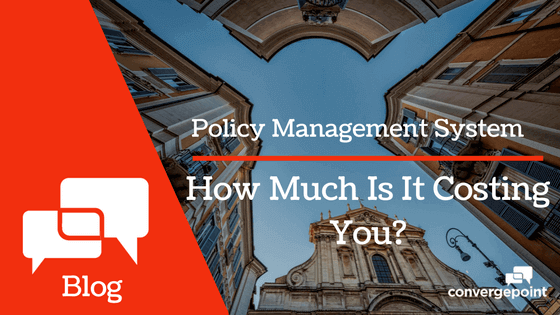 Manual Policy Management – How Much Is It Costing You?
As an important member of your compliance or policy management team, you understand the importance of an efficient policy management system and the wealth of benefits it brings to your organization. However, you also understand the costs that come along with it, and oftentimes you might be paying more for your policy management system than originally thought.
What does your policy management system truly cost you? Whether your organization is operating on outdated software or by manual processes, you'll realize being behind the curve, and your competition, can hold you back financially and prevent positive growth. Sometimes the costs of your current system may not have a dollar sign attached to it, but still cause a great deal of stress on your entire organization.
Understanding the overall cost of your policy management system can be eye-opening and encourage you to find a new cost-effective solution to manage your policies and procedures. When analyzing your current system, consider the following:
Financial Repercussions of Your System
One of the costliest elements of operating a policy management system is if your business is running on manual processes to manage policy and procedure creation through acknowledgement. Some of these traditional systems, like paper-based ones, incur significant costs that can be entirely avoided if they were running on a digital and automated platform. When your team of compliance and policy experts manage thousands of policies and procedures that have to be printed and distributed across your whole organization, total costs can skyrocket into a number you weren't expecting. Considering many businesses and employees enjoy having an electronic copy of a document, what becomes the point of creating tangible and physical copies of your policies and procedures?
Another point to consider is the possible cracks important policies and procedures could fall through if handled by manual means. If these important documents go missing or unavailable when you need them most, that could cost your organization a significant amount you weren't expecting either. Additionally, your organization can face fines if certain policies and procedures are available to the wrong employees.
Wasted Time and Productivity
While manual and outdated policy management systems cost you large sums, they may end up costing your organization even more in lost time. Some of the most important resources businesses possess are time and positive productivity. Manual and outdated systems require tremendous amounts of micro-managing to operate, placing greater stress on compliance departments while making it difficult for employees to be in the know regarding regulatory policies and procedures. Considering creating, distributing and acknowledging policies and procedures require input from numerous employees, utilizing outdated approaches slows down those processes.
Indirect Costs and Expenses
For any business to operate at maximum efficiency, an organized approach to managing policies and procedures is a must. Manual and outdated policy management systems require your employees to always be monitoring these processes to ensure nothing goes wrong. The time your employees spend performing these tasks could be better spent by doing some other productive task. An automated system maintains itself and requires little oversight from employees, while manual approaches slow down your whole organization and can ultimately impact all employees. These outdated systems handcuff your organization and cause serious risks.
An automated policy management system like ConvergePoint understands the high costs your organization could be facing with a manual or outdated system. Our Policy Management Software and Office 365 Add-In automate the full policies and procedures lifecycle of your organization and allow businesses to seamlessly manage their entire processes. Our solutions intuitively help you manage the policy creation, distribution and acknowledgement phases to achieve compliance and effectively communicate policies and procedures to employees.
Related Articles:
Talk to a compliance specialist to learn how our Policy Management expertise can be applied to your business by scheduling a demo now.
Download Whitepaper - Why Automated Policy Management Software is the Future of Compliance?