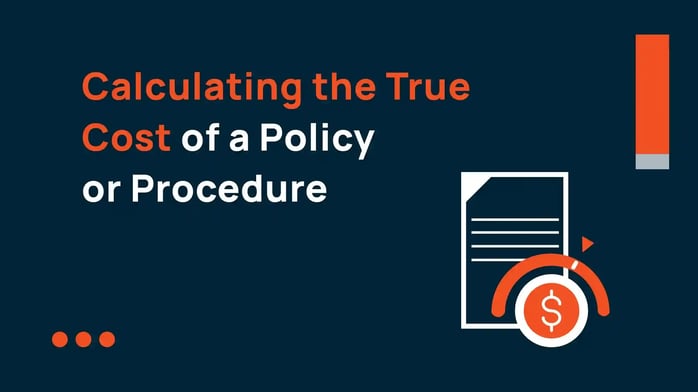 Now I know what you are thinking to yourself, I have hundreds if not thousands of policies at my organization – how can I possibly look at all of the costs associated to every policy? What a nightmare! Instead, we suggest taking a random sample of your data set, as testing a subset of policies can save significant time.
A good rule of thumb when taking a sample size is to use n=30, as a sample size of 30 policies or procedures will reflect enough of a sample to provide reliable results, without overburdening the person analyzing the data.
A sample size of 30 is by no means required, but helpful in looking at costs spread across the organization. Often though, looking at 1-5 policies may give a good understanding of the costs associated with your policies. This will help you to see the multiples and inefficiencies within the policy lifecycle that can later be streamlined.
Once you have decided on the sample size, or how many policies you will be calculating cost for, take a random (as best you can) sample of policies your organization may have. Make sure to include policies that may serve multiple departments, in case you have multiple of each policy. It is best practice to account these multiples, as multiples do have additional costs associated in maintenance and upkeep. Once you have decided on which policies to sample, it is now time to calculate the costs associated.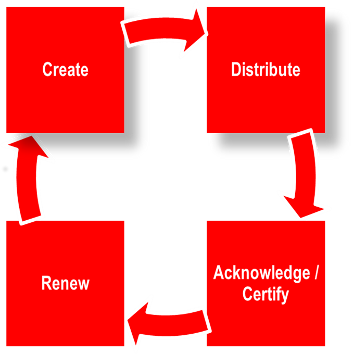 Earlier we had a discussion that posed the question, "How much are each policy and procedure costing my organization?" In business, we often examine operational costs with heightened scrutiny, but rarely look at the costs associated with passing the intangible rules that your constituents (employees) work under to meet regulatory and operational requirements. It is often straightforward to calculate tangible costs such as materials or employee resources, but slightly trickier when we get into intangible assets such as software or intellectual property. Lastly, but still important, are the costs associated with policy and procedure management.
To calculate the total cost of a single policy or procedure within your organization, we must break down the different touchpoints and the workflow that is required for a single active policy.
First, the policy must be created, reviewed, and approved by the managerial team. How many resources are involved in the drafting, review, and approval cycle? Does the policy need to go to a committee for additional review? What is the average time that is required for each of these stages to be complete and what is the cost associated with each of these stages?
Next, we need to look at the costs to store and distribute the policy or procedure to the employee base. Is this a central repository for all policies and procedures? Is there a cost to sending out alerts to employees as new policies are introduced? Will there be a cost to alerting document owners when documents are up for renewal?
Third, we need to consider the costs associated with employee certification and acknowledgment. How many documents do employees need to certify? Is there a cost to send out alerts to employees when a document is ready for certification? Do employees need to take a quiz before they sign off - if so, what is the cost of conducting the quiz? What will it take to store all the quiz and certification documentation in case of an audit by an external agency?
And finally, we need to think about the costs to revisit and renew the policy on a regular basis to ensure that employees have access to the latest policy or procedure currently available at the company.
Related Article: How Much Is Your Policy Management System Costing You
Download the White Paper - Leveraging Microsoft Office 365 for Policies and Procedures Management