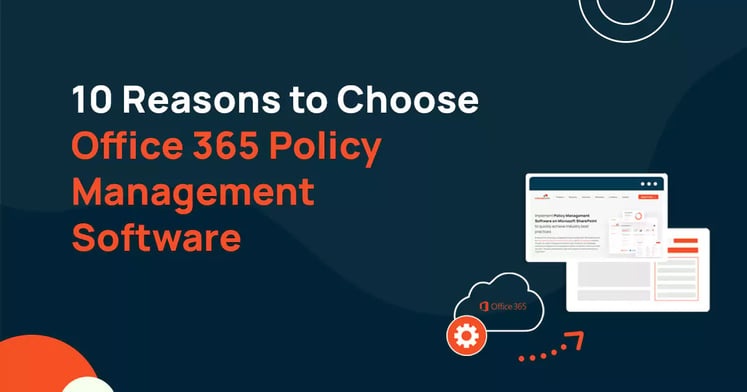 Best Practices for Choosing Policy Management Software that's right for Your Organization.
Perhaps you have yet to consider an automated policy management software solution or you are ready to make a policy management software purchase in the near future. Taking that first step toward making your compliance management process more efficient and effective is always the toughest.
Using policy management software helps many organizations move away from inefficient and outdated manual processes and automate policy and procedure management. Before you set out on finding the software app that is right for your organization, there are several factors you should consider. One of those factors is how the policy management software will be deployed. One option for current Office 365 customers is to leverage their existing SharePoint Online services and find a solution that integrates with tools the organization is already familiar with using.
If your organization is looking to implement a policy management software solution and is already using Office 365, here are 10 reasons to implement policy management software hosted on the trusted Microsoft platform.
1. Leverage your existing investment
First and foremost it's important for an organization to consider how they may be able to leverage their current investments. Microsoft's SharePoint Online is a best of breed document management system that Office 365-based software apps are able to maximize. SharePoint provides a single central platform where employees share and collaborate on information pertaining to the organization. Choosing policy management software that builds on the same powerful SharePoint platform will allow your organization to use a system it trusts, while gaining the benefits of unique and powerful policy management features not available with SharePoint Online alone.
2. Single sign-on
The modern professional uses up to 10 different software applications daily, many of which require unique passwords and individual sign-on processes. An O365 hosted policy management software solution allows you to sync to Office 365 login credentials. If your organization has large amounts of users, security groups, or distribution groups, single sign-on will streamline access for employees.
3. Privacy
Policy management software hosted on Office 365 leverages the powerful security and privacy features offered by Microsoft with data encryption, regular back ups restricted access to the physical data center where backups are stored, and compliance with standards such as HIPAA, FINRA, and FISMA.
4. Scalability
Microsft 365 SharePoint based policy management solutions are able to scale up to accommodate growing organizations. As your organizational requirements change over time, it's important to consider how the software purchases you make will grow with you.
5. 24/7 Access
Increased accessibility is yet another benefit of a Microsoft Office 365-based policy management app. Because the compliance management app is in Microsoft 365 SharePoint, users are able to access it securely from anywhere they have an internet connection, whether they are in the office or on the go.
6. Outlook Integration
One of the best parts of Office 365 is the Outlook mail feature. When implementing a good policy management system, most of the workflow involved in managing compliance documents should be done in the application itself. However, for notifications and other obligation reminders, an effective policy management application will integrate with the most widely-used enterprise email solution for businesses.
7. Office and Word Integration
Microsoft Office Suite is the most popular and widely-used productivity tool for the modern enterprise. Because Office 365 customers are familiar with tools they use every day, and because most policies are initially created in Word, choosing a policy management software app that is compatible with these tools will reduce training time and make the lives of users easier. Office 365 policy management software also allows for tight integration with Word Version Control, Track Changes, and all of the other Microsoft Word functionality.
8. Minimal Ramp-up
Simplify the implementation process by choosing a policy management software application that easily integrates with the organization's current systems. Employees are able to quickly access the software in the cloud without having to set up a new profile or password.
9. Little IT involvement
With a Microsoft Office 365 hosted policy management software solution, the involvement of the IT department is minimal because there is no software to install. Fewer IT resources means more effective time usage for one of your organization's most critical departments.
10. Cost
Installable software can have considerably higher costs than a cloud-based policy management solution. Because an app based in the cloud on Office 365 requires less time and effort to implement, the savings are passed on to the organization and are often more affordable than installing software across the entire company.
If your organization is already using Office 365 and is ready to move to a more efficient and streamlined policy management solution, a policy management application that leverages your current tools with the powerful policy and procedure management features like version control, workflows, obligation reminders and more, request a demo of ConvergePoint Policy Management Software now available on Microsoft 365 SharePoint.
Download the White Paper - Leveraging Microsoft Office 365 for Policies and Procedures Management