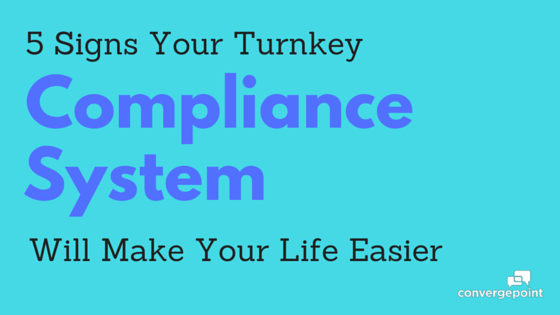 SharePoint Compliance – Turnkey System
After struggling to get by with a manual system that feels like it is held together with chewing gum and duct tape, finally getting budget approval for a new software system can feel like a brand new day. The short-listed vendor presentations will be full of promised functionality that will transform your working life into one of lower blood pressure and free time to finally get all of those other projects off your to-do list. Here are five ways your new turnkey compliance system is worth the investment.
Out-of-the-Box
Your current system may be far from perfect, but you have managed to make it work after all these years. The prospect of switching to a new system may prompt visions of disruptions in service, but a turnkey compliance solution is designed to address those fears. Open the box, load the software, and begin using your preferred methodology to achieve the results you've always wanted. Since it's a proven technology that works for the majority of the marketplace, your process won't need to change when transitioning to your new turnkey compliance system.
Policy Workflow
Your policy workflow represents the requirements of your internal systems, industry best practices, and all current legislation. It would seem logical, therefore, that making the move to an automated system should enable you to improve the efficiency of that system, not force you back to the drawing board to retrofit it. Your savings from switching to a new turnkey compliance system will help reduce the added cost of time and resources of operating under your current system. Plus, your promised cost savings can come much quicker to the forefront.
Cost-Per-User
The promised cost-per-user of your new system may be attractively low, but how will you track those users? An automated turnkey software will easily track all of your users, compared to software running on a per-user license. Tracking employee turnover within your department may add an administrative headache in a manual environment, while an automated system can take care of the work for you. A solution that's built on a cost-per-server installation would be much easier to manage.
Dependency
Achieving proficiency on the new system requires training. Maximum proficiency demands that your department achieve some level of self-sufficiency in training. In other words, your vendor should be committed to supporting your train-the-trainer needs so that your employees can be trained on a schedule that works for you rather than waiting for the availability of trainers from your vendor.
Constant Updates
Good software solutions should be dynamic. Regular updates should improve the functionality and security of the product for the good of the customer. New updates will add stronger features to your turnkey compliance system and help your business manage its growing IT environment. These constant updates from a trusted provider are designed to make your experience even smoother.
Our policy creation and management software products are designed to help you leverage the improved productivity of workflow automation. With a fully customizable workflow operating on server licenses, you can elevate your policy management practices with ease.
To learn more about our software now available on SharePoint On-Premise, SharePoint Online via Office 365, and as a Software-as-a-Service, schedule a demo now.
Download Policy Management WhitePaper