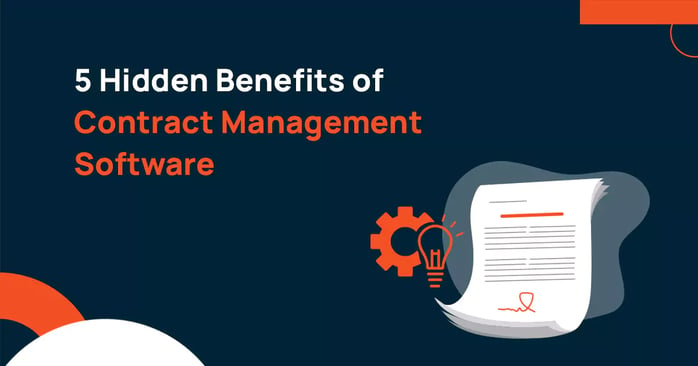 5 Hidden Benefits - Contract Management Software
All contract management software vendors talk about the features of the system — the nuts and bolts — and how these features translate to benefits for your legal team. Automating the contract workflow saves your legal time and resources, prevents your team from missing a contractual obligation and ensuring contracts don't auto-renew, among other benefits.
Contract management software, however, does more than just what its name suggests. Beyond managing contracts, it can also help manage other aspects of the process:
Time Management
An automated contract management system keeps your company and legal team on schedule:
With prioritizing contract requests;
With drafting, reviewing, approving and executing the contract;
With fulfilling contractual obligations;
And with remembering renewal and expiration dates.
The system ensures your team uses its time efficiently, while also making sure you never miss a deadline.
Delivery of Goods and Services Management
Fulfilling contractual obligations and the overall agreement is about meeting the requirements that you and the other party agreed upon — and having contract management software helps ensure that the products and services delivered meet the agreed-upon terms.
In-House Team Management
Contract management software helps you hold the legal team accountable to their responsibilities. It keeps them on task and on schedule. While you're monitoring the status of contracts from real-time dashboards, your team receives automated alerts, including escalation notifications, about pending tasks. An automated system helps prioritize tasks, tighten up processes and keep the legal team operating at its most efficient.
Change Management
Change doesn't necessarily have to create chaos. An automated contract management system can track and store changes, comments, version histories and revisions in one searchable system. When contracts are made way in advance, sometimes changes are necessary — the market evolves, product availability goes up and down, service requirements shift — and contract management software helps your legal team handle these changes smoothly by storing amendments and attachments with the original contract, and enabling you to add contractual obligation deadlines.
Client Relationship Management
When all of the above is well-managed, it shows your customer that your company is well-run and helps sell your team and organization to the customer. The individual parts — staying organized through the contract creation process, getting real-time status updates from dashboards, executing the contract on time, getting automated reminders so contractual obligations are fulfilled on schedule and as outlined, and producing ad hoc reports — add up. With all of these tools, you're able to better keep your customer in the loop, communicate better and thus build a stronger relationship with your client.
Manually managing all of these processes requires a dedicated, organized team coupled with robust software to manage the contract workflow. Schedule a live demo to see how software can help manage and improve all of these moving parts.
ConvergePoint (www.convergepoint.org) is the leading provider of compliance software solutions on the Microsoft SharePoint platform.Compliance products offered include Policy Management Software, Contract Management Software , Conflict of Interest Disclosure and Employee Health and Safety Training Management Software.
Download Contract Management White Paper