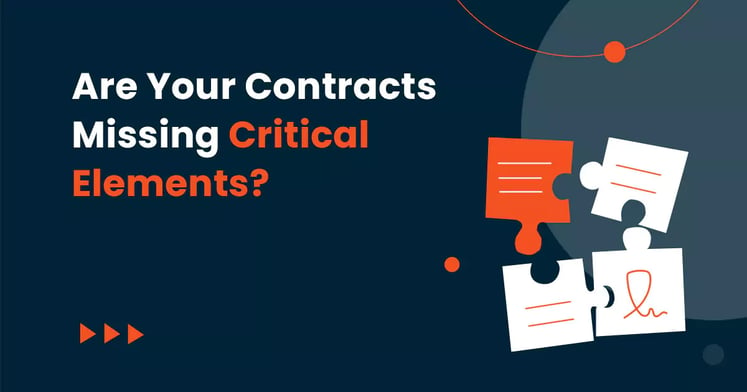 Nothing happens in business until somebody buys something. The old adage is as true today as it has ever been. Increasing global competition presents your prospects with a dazzling array of options, and it doesn't matter whether you try to compete on product, price, promotion, or place (or all four), your client relationships are always at risk of being lost to better deals elsewhere. In this context, every single element of the customer experience has to be flawlessly executed if you are to have any hope of earning that client's loyalty and future business.
Your product or service may be loaded with competitive features and benefits, and even priced aggressively, but all of that effort can count for nothing if your contract management process doesn't receive the same level of detailed attention. Your sales team promises to exceed your customers' expectations, and your product or service may well be fully capable of doing that, but nothing happens until those promises are tied down to legal performance obligations in detailed contract language. Failure to meet those agreed performance standards can incur expensive penalties, automatic non-renewal and the loss of future business, and even additional penalties for non-compliance to any applicable regulatory standards. Some of that could well be directly related to product or service performance issues, but we often forget that the same scenario could be created just as easily by simply failing to manage the contract effectively.
Landing a high dollar complex sale should initiate a detailed workflow procedure that notifies all relevant personnel to make themselves available for an efficient and expeditious review and approval process. Anything less can be very expensive:
If your department looks more like the deck of a sailing ship fighting off marauding pirates – "all hands on deck!" – you may have a problem.
If the first draft of the contract gets emailed on a distribution list that extends beyond the list window in your email template, you could be in trouble.
If you lose track of the current "official" version and have to send another broadcast email requesting confirmation of who has the latest version, you are definitely in trouble.
If legal requests a clarification of a specific contract point and you can't produce the relevant supporting documentation, things are really getting bad.
Related Article: How Legal Teams Can Manage Large Volumes of Contracts with Contract Management Software
Contract management is more than the "paperwork" that has to be done once you get that handshake or confirmation email. It's also much more complex than just "dotting the 'i's' and crossing the 't's'. Missing critical contract elements, or even agreeing to incorrect elements because you're working from the wrong version, can prove to be expensive mistakes, not only in terms of the current contract but also in lost future business when the client proves to be less than impressed with your attention to detail.
There is a better way. Our comprehensive SharePoint Contract Management system leverages the capabilities of a secure SharePoint portal to deliver best of breed processes on a robust template built on industry best practices. Controlled-access with real-time dashboard tracking enables you to win the paperwork battle before it starts. You can track who has been assigned to which contract, monitor progress through review and approval, and keep versions locked down before the final one is approved for release and signature by the appropriate authorized personnel. Central document storage maintains version control and keeps all supporting documentation in one location should audit requests arise down the road.
If you're ready to manage the details once and for all,request a free no obligation demonstration and let us show you how to leverage the full potential of proactive contract management.
Download Contract Management White Paper