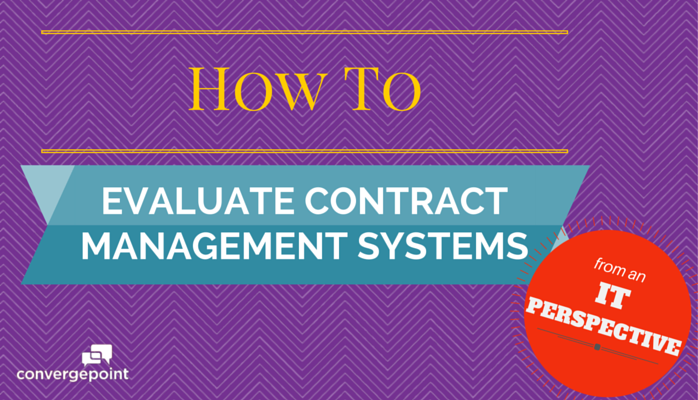 As an IT project manager or SharePoint administrator with your own job tasks and processes, it can be a challenge to evaluate software vendors based on the needs and from the standpoint of another department, especially without knowledge of their processes and goals. When you're asked for input on choosing a contract management system, what should you look for?
From the IT Team's Perspective
You'll want a system that offers quick deployment and implementation, and also requires minimal training, if possible. Request live demos to see how business-user-friendly and intuitive the software is.
If your company's employees are already familiar with Microsoft SharePoint, consider contract management software built on SharePoint. Not only will choosing a SharePoint-based system enable the legal team to take ownership of the software (meaning less work for you!) because they're already comfortable with the platform, but it will also integrate with Microsoft Active Directory, Exchange and Office, allowing for seamless migration of files and easy-to-set-up, custom workflows. Most attorneys and general counsel are heavily dependent on Microsoft Word and Excel, so finding software that works with and enables you to keep documents in Word and Excel (their existing formats) is a priority. With this priority in mind, discuss with the legal team how legacy records will be migrated.
The legal team will also want the contract management software to integrate with an electronic signature company, and will ask for guidance from you on which vendors work best together and which products offer the tightest integration for a better user experience.
From the Legal Team's Viewpoint
The legal team will want software that can automate the entire contract workflow, from when and how they receive a contract request to reminding them to fulfill contractual obligations and renegotiate contracts up for renewal. Ask the legal team to map their processes, so their team and yours can gain a true understanding and clear picture of what system requirements they'll need.
From there, they'll turn to you for guidance on whether a cloud-based or hosted solution will best fit their needs and goals. Choosing a hosted solution — for example, ConvergePoint's Contract Management Software is built on your existing, on-premise SharePoint platform — enables your legal team to retain ownership of their important documents. Consult with the vendor to determine how accessible the vendor's IT support team is when you have questions, as well as how often the vendor provides product updates and fixes.
Your legal team is looking for a system that will store all contracts and supporting documents in one central location that can be easily searched. Ask how the legal team typically searches for contracts so you can analyze how the software's search functionality will need to work from a technical standpoint.
Related Articles:
See how the right contract management system can keep your IT, legal and compliance teams happy.
Other Considerations
Don't forget to investigate the privacy and security features of the software, as well as determine how many licenses your organization will need. Establish team leaders/project managers from legal and IT to lead the respective departments in selecting a vendor, as well as serve as a point of contact for the vendor. That way, you eliminate miscommunication and too many cooks in the kitchen. At the same time, before viewing demos, make sure that all key decision-makers are present — not just legal and IT. Business development, sales, procurement, accounting and finance, and compliance often play roles in the contract process, so be sure to get their input as well.
Download Contract Management White Paper