Contract Management Software Add-in On Microsoft Office 365
With an expanding business, your compliance and legal departments are required to account for every new contract within your organization. While adding new employees, vendors, partners and customers to your growing list of contracts is great for your organization, managing these in an efficient manner isn't always a given considering all the moving elements and personnel obligations. You've realized your current approach to contract management needs a change as your organization continues growing.
Review & Approve Contracts
Our contract creation functionality allows contract managers to easily create, collaborate, review, negotiate, approve and obtain contract signatures.
Contracts Repository
Our contract software solution gives contract managers the tools to manage contract documents in one central document repository with roles based access to signed contracts. Authorized users are able to search for contracts with company specific metadata and view contract details.
Renew Contracts
The Office 365 contract software renewal features gives users tools to proactively manage their contract renewals, monitor expiration dates and approve upcoming renewals with automated email alerts as well as create amendments to existing contracts.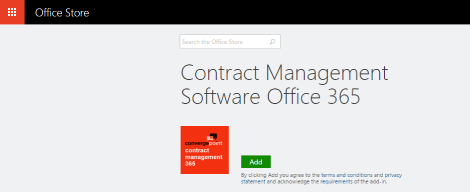 Contract Management Add-In – Microsoft Office 365
By closely examining what legal departments across different industries and company sizes, ConvergePoint developed its Contract Management Software SharePoint Add-In (available on the Microsoft Office 365 Store) to be easily added to your existing Office 365 environment and give you full control of every phase of the contract lifecycle process by automating the creation and management of every document. That means less time wasted manually managing contracts and more time spent on efficiently keeping track of every document.
Empower Your Contract Lifecycle On Microsoft Office 365
Thanks to the easy accessibility of the Microsoft Office 365 Store, you can begin managing your contracts on one scalable, centralized SharePoint Add-In. ConvergePoint's Contract Management Software SharePoint add on available on the Microsoft Office 365 Store streamlines the entire contract management lifecycle process for your legal team and allows them to manage documents without any IT or SharePoint expertise. Once the license is obtained for the solution, your organization is able to quickly install the Add-In from the store and enjoy the benefits of an enterprise contract management system.
Download the Guide - Empowering the Contract Lifecycle Management with Microsoft Office 365
Why Choose The Add-in Model For Your Business?
If your business is already using the Microsoft Office 365 platform, why not stay within that shared ecosystem? Our Contract Management Software Add-In can be quickly added and leverage SharePoint Online's intuitive document management platform. Your Microsoft features, ranging from Office, Exchange, Outlook, Excel and Active Directory files, are shared within your SharePoint Online ecosystem and easily retrievable for your contract managers and legal team.
Our Office 365 contract management add-in is built to be easy to use and display all relevant information in real-time. During the contract creation phase, our add-in guides your contract specialists from drafting all the way to final approval. Meanwhile, your general counsel and contract managers benefit from the real-time dashboard and track new requests, upcoming deadlines, scheduled renewals, and expiring contracts.
With our one-click approach to downloading and installing our add-in, your contracts and documents are seamlessly migrated without wasting time. Plus, all future updates to the add-in are easily downloaded and don't require any downtime during your business days.
With our add-in going to work for you in minutes, rest assured our team of Microsoft Office 365 experts can guide you and answer your questions as needed. Unlike other complicated contract management software in the industry, our Office 365 contract management add-in does not require extensive training courses to operate. Our IT support team values your time and provides you with the right knowledge, tools and guides to make the most out of our add-in.
Review and Approval
Ensure the right people get involved at the right time with custom workflows.
Request Management
Know which contracts take priority and approve contracts by contract dollar amount.
Real-Time Dashboards
Quickly see status updates, metadata, visual reports and workflow history.
Search and Reports
Find the information you need with targeted search, and get real-time ad hoc reports.
Document Storage
Employees access and easily find up-to-date policies and procedures from one central location.
eSignature Integration
For convenience, integrate our software with your electronic signature company.
Obligation Management
Better manage contractual obligations and key dates with auto-reminders and audit trails.

Renewal Management
Receive reminders so unused contracts can be renegotiated and aren't auto-renewed.