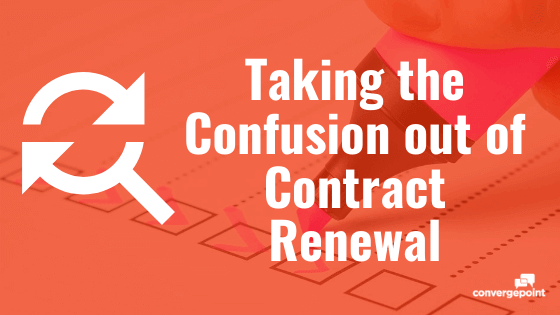 Perhaps the most common challenge organizations face in the management of their contracts is the process of the contract renewal. While the focus of the renewal process is often placed on tracking the appropriate renewal date, an aspect that is often overlooked is the renewal type.
Effectively managing the process of contract renewal requires detailed information about the terms and conditions of the contract: Does it auto-renew, or does it require notice to opt-in for an additional term? What is the duration of a renewal term, and what are the conditions? Is a formal amendment required for the renewals? What are the required notification periods? Tracking renewal dates is certainly an important aspect of contract management, but the most effective systems incorporate much more detail.
The ConvergePoint Contract Management solution provides a comprehensive platform to support contract renewal. The system captures key data about renewal at the point of signature, providing insight into not only the date/timing of the renewal but also the structure and terms of the renewal process itself. Contracts may be designated for auto-renewal or standard opt-in renewal, then the appropriate terms for notification periods, favorable conditions, term durations, and other key information are tracked accordingly. For those contracts where renewal terms do not apply, the system includes "No Renewal" and "Evergreen" designations to manage the lifecycle of the contract appropriately.
By tracking detailed information about the renewal type, you gain substantially more insight into the renewal process without the need to individually open and review each contract. And because the renewal type is captured as a metadata field and stored in your SharePoint Online database, running accurate reports becomes even easier and more efficient. Dashboard displays can be sorted and filtered against your renewal terms, so you have real-time visibility of not only the pending renewals but also the specific tasks required to properly manage the process.
Take the confusion out of your contract renewal process and become more efficient by adding a renewal type to your data set.
Related Article:
Download Whitepaper - 5 Ways ConvergePoint Contract Management Software Can Boost Your Office 365 SharePoint