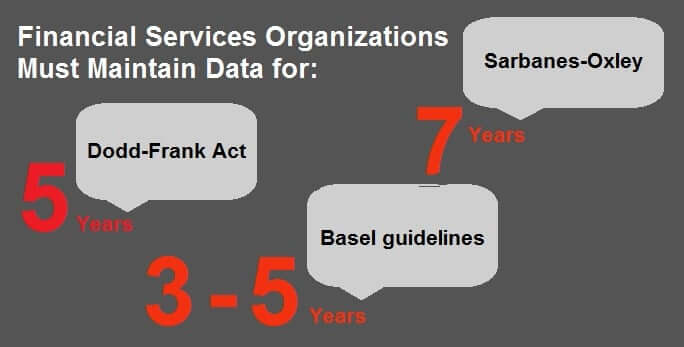 Banking and financial institutions, perhaps more than any other type of business, must be constantly on alert for cybersecurity breaches. Their customers entrust them with a large amount of data, and financial firms' business depends on the ability to protect and secure their customers' information.
As a result, the financial services industry is heavily regulated and under constant scrutiny — by both officials and the public. Financial organizations must adhere to strict compliance laws to promote operational transparency and accountability:
Maintain records for at least five years, per the Dodd-Frank Act
Keep risk and transaction data for three to five years, per the Basel guidelines
Retain audit work papers and required data for at least seven years, per Sarbanes-Oxley
Implementing and managing effective processes to organize and maintain records in accordance with all of these different regulations can be a huge undertaking — especially when it comes to contracts. Working through contracts themselves, particularly when multiple parties are involved, can be a lengthy process. Financial services organizations need an automated, intuitive and most importantly, secure contract management software to help them not only seamlessly navigate through the contract process, but also keep them compliant and audit-ready.
With a scalable system such as ConvergePoint's Contract Management Software, financial services organizations — from commercial banks, credit unions and investment banks, to brokerage firms, mortgage brokers, insurance companies and management investment firms — promote increased communication and streamline the contract lifecycle.
Most importantly, ConvergePoint's Contract Management Software keeps all parties' information secure behind their own firewall or through their on-premises SharePoint server; stores supporting documents and references; and ensures financial services companies are audit-ready by tracking and storing revisions, notes, version history and approvals.
For more information about how our software can strengthen your compliance program and ensure you're prepared for your next audit, contact ConvergePoint.
Next step: See how an automated contract management system can help strengthen your compliance program; read our below White Paper: Achieving Efficient Contract Lifecycle Management.
Download Contract Management White Paper