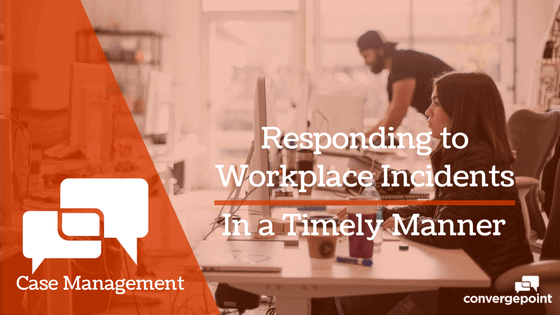 Responding to Workplace Incidents in a Timely Manner
While growing a business can be elating, an effective organization requires a great deal more than expanding revenues. It requires adaptive management and administration, framework, and techniques, because staffing will invariably grow as well. More employees bring about new challenges and potential HR issues. In the event that an organization's infrastructure falls behind general business expansion, workplace incidents and problems won't be a long way behind.
When dealing with a maturing business, unresolved allegations can inflict significant damage on employee morale and lead to major legal ramifications. Growing companies may not be aware of workplace investigation and case management solutions such as ConvergePoint's Case Management Software hosted on Microsoft Office 365 , and likewise would benefit from implementing it into their existing environment in order to facilitate workplace investigations in a timely manner.
In many ways, workplace complaints and incidents call for consistently proactive and timely responses. The minute an allegation is made and the complaint is filed, it is incumbent on the organization to acknowledge that the complaint was made, as any inaction can be chalked up to ignoring or overlooking the situation. What's more, in the case of harassment, it could then be alleged that the inappropriate behavior was allowed to continue without any formal acknowledgement of the issue.
With that being said, don't delay. Acknowledge the complaint and begin the investigation as soon as the issue arises. Document your company's response as well as the date the investigation begins: A timely response should be a requirement of the management and documented in the organization's policies and procedures, not only for the sake of the employees, but also to mitigate potential legal affliction. Ensure that the lines of correspondence remain open throughout the course of the investigation, while keeping classified information private. Case managers should proactively remain in contact to ensure an understanding that the issue has been taken seriously.
Once a workplace complaint has been altogether investigated, the organization must finish up the examination and thoroughly convey the outcomes to both sides in a timely manner. It is incredibly important that the organization displays a competence in adequately recognizing and addressing issues with employees that could compromise the workplace environment. If any employee training or disciplinary action is required, those details must be conveyed quickly. Drawing a successful workplace investigation to a close requires reaching a justifiable conclusion that is commensurate with the incident that took place, and communicating the results as soon as possible.
If managing the timing of a workplace investigation sounds intimidating or precarious, that's because it is. With ConvergePoint's Case Management Software on Microsoft Office 365 , your employees, HR department and organization at large can rest assured that workplace investigations will stay on track and be timely. To request a demo, contact us, or call 888-484-8048 today.
Download Incident Management Checklist