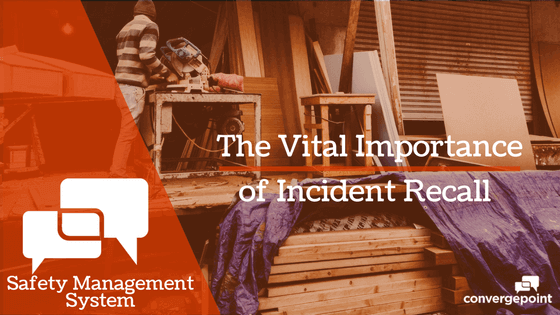 Safety Management System: The Vital Importance of Incident Recall
The incident has occurred. The necessary reactive actions were taken. All the stipulated OSHA, state/local, systemic, corporate and other necessary documentation has been completed and submitted as needed or is in hand. Incident costing has been estimated. Even preventative actions have been undertaken or are under way. What then? How best does one close the loop in the incident recording and reporting system? How can your organization ensure that the message is clear: this will not happen again? Enter incident recall.
Incident recall is best described as the post-incident means by which an organization communicates said incident to and with relevant employees. Recall in this context is a means by the organization to impart lessons learned from the incident, as well as to initiate policies and other means of trying to redress the negative outcomes as necessitated by the incident and its consequences. It helps employees to be acquainted with (or remember) the events and circumstances that could have led to undesired consequences. Discussing how these unwanted events occurred, as well as their outcomes, can help employees to learn from the incident. This can only help to improve the management system that is in place.
How and to what extent this recall should occur is entirely at your organization's and management team's discretion and should always be contextual. For example, a severe incident that possibly resulted in the death of an employee or of several employees being injured may need to be communicated to the entire company. This may serve as both a show of respect to those killed or injured as well as a means of inculcating the importance of abiding to health and safety rules and policies at all times. On the other hand, a minor incident in which there was only property damage or an employee with no more than cuts and bruises may only need to be recalled and discussed at a divisional level or in a shop-floor meeting. Sometimes a company's intranet may prove useful for recall, whilst in other instances a company or divisional newsletter or bulletin board may suffice. Incident recall comes in all sizes and means of communication. What is important is that it gets done properly.
Nor should companies fall into the trap of only recalling the 'big' incidents or the ones that caused extensive damage or worse. Minor incidents and even, it must be stressed, near misses can be invaluable in fermenting positive and constructive debate on health and safety and making the message clear: it could have been a lot worse. Furthermore, incident recall also encompasses the process of incident recording itself. In many companies, incident reporting tends to be weak. The purpose of incident recall is also a helpful conduit aimed at uncovering more valuable information which may have been overlooked or not thoroughly examined during the earlier stages of the entire incident reporting process.
Let it be clear: an incident equates to systemic failure. Yes, that is correct: systemic failure. An OSH/EHS incident in the workplace is nothing short of an aberration, something which should never have happened and which cannot be reasonably allowed to occur again. It is the clearest sign of a failure in a system and recognizing it as such will provide added impetus to ensure that the incident is suitably communicated. Lessons must be learned so that recurrence is minimized and so that employees fully understand and respect just how deeply your organization is committed to their individual and collective health and safety.
Download Incident Management Checklist