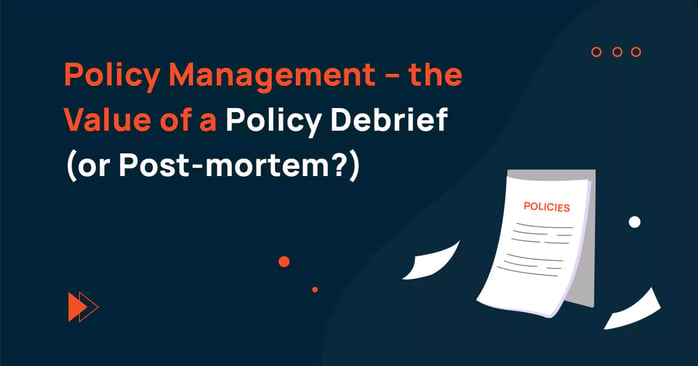 Policy Management - The Value of a Policy Debrief
Policy creation using manual systems often consists of a stressful push towards a hard deadline with just a brief regrouping period before starting the process all over again with a new policy or a revision of an existing one. In this environment, survival is seen as a successful outcome in itself. 'Making do' with insufficient time and resources and still hitting the deadline can promote its own form of team spirit, but finishing such stressful projects with self-congratulation that you managed to pull yet another crisis out of the fire does your department a disservice.
Getting Good at Making Do
There's no doubt that overcoming obstacles can make the eventual victory seem that much sweeter, but if the same obstacles keep showing up time after time, your department is not really improving, you're just 'getting good at making do.' The relief and exhaustion becomes familiar and the team slowly abandons any hope of breaking the cycle as the conviction that there will never be more resources or more time takes hold.
In that mindset, there is often little interest in revisiting the last policy creation to see what worked and what didn't. Examining choices made for alternatives is of little interest when you are trying to catch your breath and recharge before the next cycle begins. Unfortunately, this approach overlooks the best opportunity you may have to break the cycle and finally move beyond 'making do.'
However, the value of this business intelligence will correlate directly to the ease with which it can be accessed. Folders of emails, spreadsheets, templates and draft versions of your work-in-progress policy will be of little value if the workflow from origination to completion cannot be easily identified. At that point, the detective work involved in sorting everything out may well take longer than any cost or times savings that may be achieved at the end of the project.
Following Stephen Covey's encouragement to "begin with the end in mind," a commitment to a detailed policy debrief at the end of the process must be included at the beginning. As such, all data points, communications, and draft versions must be recorded in a manner that will facilitate re-examination once the policy has been delivered and approved. The enthusiasm for revisiting tense communications or missed deadlines may be very low, but the chance to identify and incorporate opportunities for improvement in the next cycle should never be missed.
ConvergePoint
Our comprehensive policy creation and SOP management software solutions can help you to track every step of your policy creation and management processes. Operating on one secure SharePoint portal using templates built on industry best practices, the actions of your team can be managed through role-based access permissions. A detailed version history page provides a real-time record of version changes that supports every element of policy workflow from creation to ongoing management and revision.
The opportunity to move your manual systems to the next level is closer than you may think. To learn more about our software now available on SharePoint On-Premise, SharePoint Online via Office 365, and as a Software-as-a-Service, schedule a demo now.
Download the Policy White Paper
Take control of compliance : see our software in action
Read more