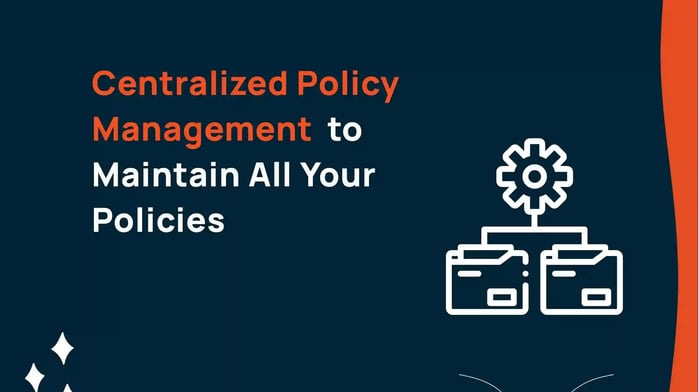 Businesses are dynamic and ever-evolving to meet the demands of the marketplace. We talk about mergers, acquisitions and subsidiaries as part of the common business dialogue, but we don't often stop to think about the compliance team that holds the seams of an ever-changing environment together. They are the one central force that guides corporate cohesion by creating policies and procedures around operational and regulatory requirements.
This central force however faces a significant challenge — policies and procedures that are often scattered throughout their organization. Traditionally, policies are created for two audiences: the organizational-wide audience or the specific business subset, and these more specific policies are often grouped by functionality, department or even job title. Most organizations have a central compliance team that handles the organizational wide policies, but the subset policies are often created, distributed and renewed by the department leaders who actually experience the policy environment on a daily basis.
Decentralized Policies and Procedures – A Regulatory and Cohesion Concern?
This structure has lead to a decentralization of policy and procedures from one central area to departments that have their own shared drives or standard operating guides that only carry subset policies and procedures are specific to them. While this method seems natural in theory, in application it creates a significant challenge for the compliance team that is aiming for corporate cohesion.
Too often, multiple copies of the same policy are distributed to different departments that have their own shared drives, meaning the compliance team has a significant challenge in keeping track of all of the different shared drives and making sure all are updated every time a policy is revised. It becomes very easy for a group of shared drives to not be updated with the rest, causing one group of employees to view outdated policy versions. Referencing outdated policies can be especially problematic with regulatory and compliance cohesion and can become hectic very quickly when organizations have thousands of policies and procedures to manage.
Another problem to consider is creating a uniform look and feel to all policies and procedures. When departmental areas are all creating their own policies, you often get mismatched information, different formatting styles and sometimes similar policies that encompass similar elements with different instructions. It becomes a regulatory nightmare and does not provide a consistent and clear message to the employee base.
How can I create a centralized area for all policies and procedures while only providing user specific content?
Before designing any system or business process the professional must first think about the requirements. Here are some of our suggested considerations:
Single Centralized Document Storage System
Document Permissions Need to Be Specific to the User or Department
Centralized area for Updated/Uniform Templates and Tools
Automatic Publishing and Retirement
After taking these needs into consideration, ConvergePoint determined that all of these tasks could be managed from one centralized platform that is already used among most enterprises today – Microsoft SharePoint. We've extended the platform and added on features to create a centralized area for document distribution that uses SharePoint permissions to enable views that are specific to the user. You can also automate entire lifecycle of policy management using our software solution and increase efficiency and ensure compliance with your policies and procedures.
Read More: 5 Steps to Ensure Compliance with Policies and Procedures
The system also uses workflows to automatically distribute the information to employees, while removing the policies from the central area upon expiration. This ensures a single, centralized area for policies and procedures management and a reduction in multiple copies of the same policy. Employees are then always looking at the most current policy version, and there's only one area for the compliance team to manage.
Download the Guide - Streamlining Policy Management for Large Organizations