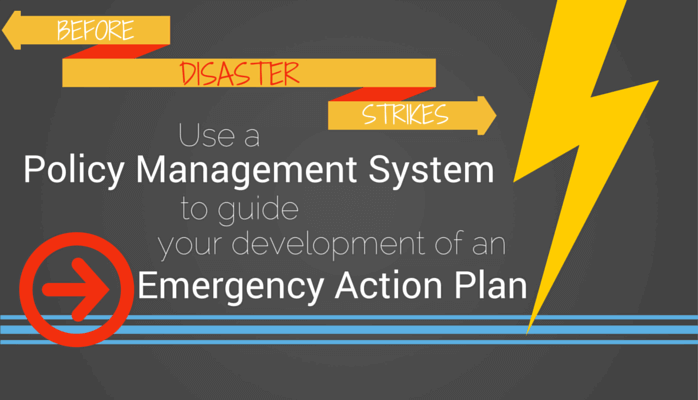 Do your policies and procedures include a disaster recovery or emergency action plan? What happens when a natural disaster, power outage or other unplanned event occurs?
About 40% – 60% of businesses never reopen following a disaster, according to the Small Business Administration, meaning an emergency action plan plays an essential role in helping businesses recover and continue.
The first step in building a plan is to create policies for disaster recovery and then define detailed procedures for each policy. All paper files — not just your policies and procedures — should be converted to electronic files when possible, and stored on secure servers.
You'll want to ensure that you involve and get input from your team in creating these policies and procedures, as well as have upper management approve them.
Also make sure that your policies and procedures address:
People
Who is in the chain of command, as well as designated points of contact
How employees will communicate (include multiple ways to contact to contact each other) and howinformation will be distributed
How employees should be trained on the plan, and what their individual roles and responsibilities entail
Physical Equipment & Facilities
What are the necessary equipment and supplies needed to continue operating, and who will be responsible for ensuring you have these essentials
Where alternative workspaces will be set up, and how they will accommodate your employees and how they can be made secure
How backup IT systems are set up, where the equipment is stored and how it is configured to facilitate recovery
Technology & Data
What are the critical business processes and technology needed to continue operating, and how they will be handled
How often data is backed up, where it is stored and how it can be accessed
According to ISO standards, disaster recovery plans should not only include the above information, but also the purpose and scope of the plan and document history. Document history needs to include: dates of revisions, as well as details about what revisions were made and who approved the revisions.
When you're looking to create an emergency action plan or reevaluate and refine your current one, consider using ConvergePoint's Policy Management Software to streamline the creation, distribution, management and storage of your plan's policies and procedures:
Central document repository – Quickly search and access the most up-to-date policies and procedures from one location.
Security – Keep your critical documents secure behind your own firewall or through your on-premises SharePoint server.
Role-based user access – When creating policies and procedures, ensure the appropriate upper management executives review and approve your policies by restricting and controlling access so they see only relevant documents.
Version control – Follow ISO standards with version history, and automatically keep track of dates of revisions, edits made and who made and approved what revisions.
Custom quizzes and policy acknowledgments – Most importantly, ensure your employees are prepared and know what to do if disaster strikes! Quiz your employees on critical steps of your plan, or have them sign off electronically to ensure they read and understood the related policies and procedures.
Next step: Protect your policy and procedure files by storing them in one central depository, and not on paper, with Policy Management Software. Plus, see how you can quickly get your employees up-to-speed on important disaster recovery policies.
Download the White Paper - Leveraging Microsoft Office 365 for Policies and Procedures Management