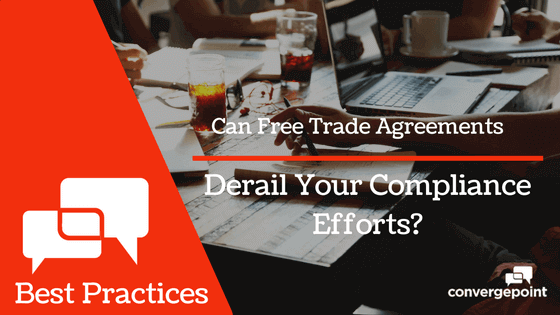 Free Trade Agreements, or FTAs, are generally seen as a way for businesses to operate on a global level while reducing tariffs on the products traded. They open up new markets for all sorts of businesses and promote a healthy marketplace for the countries involved. Free Trade Agreements like NAFTA and EU – Mexico have strengthened the overall business climate.
With the recent negotiations underway for the Trans Pacific Partnership, many businesses are wondering how their compliance processes will be affected. Currently, regulations on the trade of merchandise and goods place great stress on compliance departments to abide by the rules and avoid costly penalties. While FTAs and new regulations like the TPP aim at lowering the barriers of global trade, compliance departments across the world need to understand the compliance requirements are still present.
If your business is benefitting from NAFTA or other FTAs, or are looking at delving into the process in the future, is your compliance department prepared to handle the tremendous amount of regulations? Do you have the systems in place cultivate new opportunities and diminish risks?
Compliance Expectations for Exporters
The certification process for eligibility purposes is one of the key areas compliance departments focus on. If your business is exporting to another country, FTA eligibility certification is required for those specific customers in that country. The so-called "Rule of Origin", along with its tariff shift and regional value content elements, provides strict guidelines into how products must be labeled and categorized. These rules also encourage health and safety expectations for the good is produced.
A set of standardized policies and procedures is imperative, and failure to appropriately abide by these rules can create significant legal implications and steep penalties. For example, qualifying a product for NAFTA requires an according bill of materials and country of origination to be deemed certified, compelling compliance departments to make sure every product is accompanied with standardized processes.
Compliance Implications for Importers
The process is a little different for importers when dealing with compliance implications. In their case, claiming FTA benefits relies on importers providing the proper documentation and certifications from their supplier. But while that process seems simpler than for exporters, importers have to manage potential conflicts of interest and outstanding duties if their benefits claim is found to be missing certain features. Their compliance departments must be ready to handle Customs Brokers and other regulatory bodies in the event the benefits claim was found to include any errors.
Compliance Automation and FTA Management
If the TPP passes, or the status quo remains with the existing Free Trade Agreements, the sheer volume of regulations when certifying a good or claiming benefits requires some sort of automated compliance management software, like the one offered by ConvergePoint. A platform to handle policies and procedures management can outline the entire scope of regulations a business must abide by, and educates the whole organization outside the compliance department. A contract management system should also be implemented to handle supplier contracts for an importer, or resource procurement for exporters. Additionally, a conflict of interest management system can help avoid legal fees between importers or exporters, along with other connections deemed improper by the FTA.
Talk to a compliance specialist today to learn how our compliance expertise in policy management, contract management, and conflict of interest management, can be applied to your business by scheduling a demo now.
Download Policy Management WhitePaper