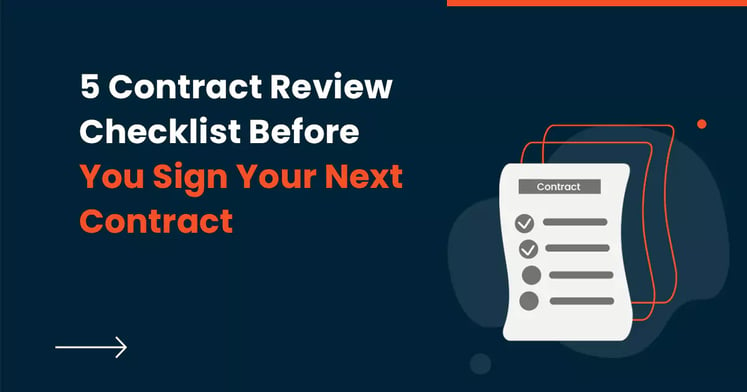 5 Contract Management Review Checklist
Whether the contract has just been drafted and is going through initial review, or the contract has been approved and is ready to be signed and executed, does your legal team have a process in place for reviewing a contract?
To ensure each contract is reviewed carefully before it is signed, contract managers and legal administrators should consider developing a policy that recommends different review processes that different types of contracts will require. If you use an automated contract management system that prioritizes contracts by dollar amount, such as ConvergePoint's Contract Management Software, consider creating a policy that determines who and how the contract should be reviewed based on dollar amount.
Contracts should also be reviewed based on different requirements and by different people, depending on type. For example, employment contracts should be reviewed by a human resources manager; purchasing contracts should be reviewed by different procurement managers, perhaps depending on value; and vendor contracts should be reviewed by a different department.
No matter what team or department is reviewing the contract, though, they should all follow these basic guidelines:
Make sure the contract's terms are in line with your organization's policies and procedures. The agreement should not contradict your core values or mission statement.
Read the entire contract to make sure that it accurately reflects your understanding of the arrangement and the terms your legal team has negotiated.

Specifically, double-check the parties' names, price, amount, duration of contract, dates and deadlines, etc.
Make sure you know and understand all of your rights and responsibilities under the contract.

Fill in blanks, if any, in the contract. Discuss any questions and suggested revisions you have with your team and with the vendor with whom you're entering the agreement. Make note of recommended edits and questions so there's a written record in case the issue pops up once the contract has been executed or when it's time to decide whether to renew the agreement.
Don't forget to read supporting documents and attachments. Don't assume that it actually states what the main contract references or alludes to.
Look for automatic renewals and the terms. Know what steps your organization needs to take if you do not want the contract to renew, and know what the potential penalties are, if any. If you let the contract auto-renew, make sure the terms are favorable to your organization and fair to both parties.
By incorporating this checklist into your contract review process, you can further streamline your contract workflow. An automated contract management system can also help ensure the right people review the right contracts.
Want other guidance on how to make your contract processes more efficient? Take a look at our How-to Guide: Successfully Establish a Contract Management System.
ConvergePoint (www.convergepoint.org) is the leading provider of compliance software solutions on the Microsoft SharePoint platform. Compliance products offered include Policy Management Software, Contract Management Software ,Conflict of Interest Disclosure and Employee Health and Safety Training Management Software.
Download Whitepaper : Maximizing Compliance and Risk Mitigation with ConvergePoint and Microsoft 365 SharePoint