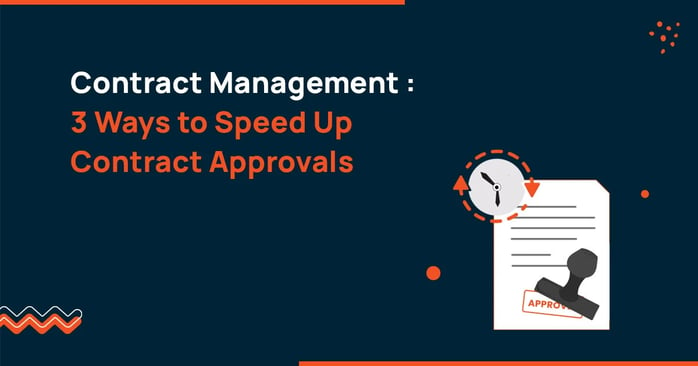 Creating and managing contracts requires a coordinated team of individuals to funnel each document through every phase. Depending on your timeline, your team may spend months organizing every party, negotiating any terms, and finally approving the contract. The contract approval process can seem to take forever considering all of the edits and reviews planned for each document. The time lost during this critical phase is amplified if you're spending too much time constantly locating the right parties to sign off on each contract, along with the possibility of documents slipping through the cracks when using email or other inefficient communication channels.
Approving your contracts can almost seem like an aftermost when so much time and resources are spent on the creation and management phases. Not to be overlooked, the contract approval process requires legal departments and compliance teams to routinely stay on top of it to reduce downtime and avoid logistical complications.
Since contracts operate on tight deadlines, the approval process should match. Considering the numerous steps involved in creating and managing contracts, the approval process cannot afford to be a bump in the road and slow down the entire operation. With this in mind, here are three ways to speed up your contract approval process:
1. Find the Best Communication Channel
The more people are involved in the contract approval process, the harder it will be to sign off on a document. When creating and managing contracts, many businesses rely on outdated communication channels. While email is the standard form of communication for most business processes, it bogs down the contract creation, management and approval stages. Documents and drafts are easily lost and misplaced in emails, creating a world of problems when need to identify which is the most updated version. For some businesses, an automated contract management tool keeps all contracts in one location, helping speed up the contract approval process.
2. Locate Potential Cracks and Pitfalls
Streamlining the contract approval process involves identifying potential problem areas that can impede on a speedy operation. The approval process of any document features a large amount of steps to take into account. It can be very easy for a substantial amount of revisions or verbiage to bottleneck during the approval process. Whether numerous drafts are handed off to a single entity or a few parties are difficult to locate to approve the document, these bottlenecks can severely hamper the approval process and create logistical headaches.
Related Article: Avoid these Common Contract Management Pitfalls to Improve Efficiency & Reduce Risk

3. Get the Right People at the Right Stage
Having different parties look at a contract and give feedback and revisions is imperative. When using a document collaboration tool like Microsoft SharePoint, every necessary revision from any party is automatically applied by SharePoint, helping avoid any complications with figuring out who applied which revision. Consolidating these revisions will help in version control and speeding up the contract approval process overall. The benefits of having all documents in one central location allows every approver to receive them in a timely manner and know all revisions have already been applied. No longer is the contract approval process slowed down by faulty version control or documents being out of place.
Your contract shouldn't have to wait on your processes to catch up, and ConvergePoint's Contract Management Software and Office 365 Add-In help you get there. Our contract management solutions implement compliance industry best practices to speed up your organizational contract processes and funnel your documents through our creation and management modules. Legal departments and contract managers can now efficiently manage their entire contract lifecycle on an intuitive platform built specifically for their needs.
Download Contract Management White Paper