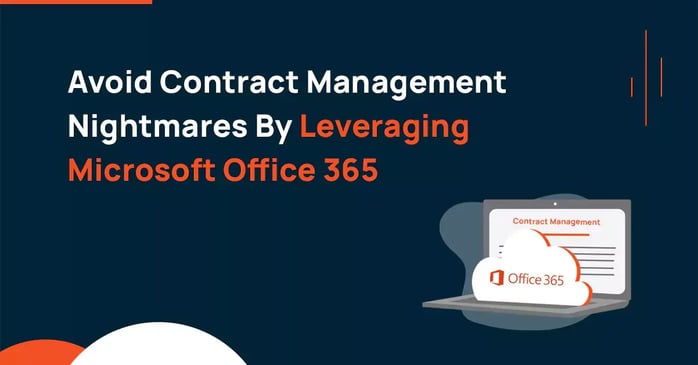 On a day-to-day basis, your legal team manages all aspects in relation to your company's contracts. With so many moving parts in your fast-growing organization, managing these contracts can become a nightmare if you are not equipped with the right tools. Keeping track of who is joining your organization, who is leaving, which new customers you've acquired, and checking their overall status eats into your productivity every day. You recognize the manual approach to contract management is slowing down your business, and you've shared these issues with the appropriate executives.
Sound familiar? Fortunately, new approaches to contract management are appearing every single day. One of these approaches is leveraging your company's existing Microsoft Office 365 environment and adding new functionality to it. For example, adding a Contract Management Add-In from the Microsoft Office 365 Store can immediately begin automating the contract management lifecycle processes of your organization, saving you time and possible headaches. Here are a few ways Microsoft Office 365 can take care of some of your contract management nightmares: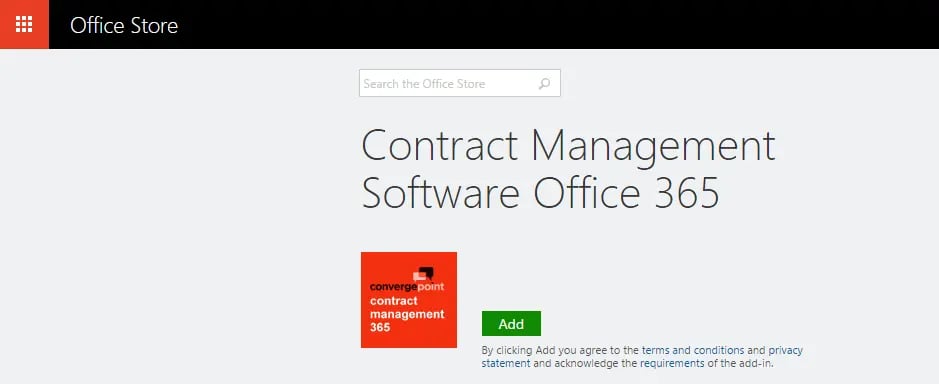 1. Start Leveraging Your Existing Office 365 Environment
If your organization is already using Microsoft Office 365 and SharePoint Online, you have the benefit of staying within its ecosystem to take care of your contract management duties. With the wealth of add-ins on the Microsoft Office 365 Store, adding one specifically related to contract management, like our Contract Management Add-In for instance, can be done in minutes and instantly create an organized automated system for your contracts to comfortably sit in.
2. Simplify Your Contract Management Lifecycle
If the contract management processes in place in your organization are overly complicated and require constant micro-managing, an add-in from the Microsoft Office 365 store can be a solution. ConvergePoint's Contract Management Add-In simplifies the contract creation and management lifecycles of your organization, making it easier on both your compliance team and legal department. Plus, the Add-In is fully scalable as your organization grows.
Related Article: 5 ways to avoid contract management nightmares by leveraging microsoft office 365
3. Store All Your Contracts in One Secure Location
During the contract creation phase, keeping track of all documents and their edits can be tedious and severely slow down the lifecycle process. Once numerous documents are distributed between the relevant parties, one individual may not have the same updated document as another, creation a nightmare situation for your staff. By storing all documents within Microsoft Office 365 and SharePoint Online, you're assured that every party is seeing the most updated documents and can freely edit and save on the spot.
4. Keep a Closer Eye on Your Audit Trail
Your legal department is required to keep a close eye on the audit trail for all processes within your organization. During the contract creation and management phases, identifying who read a document, edited, approved, or signed it will make their lives a whole lot easier. Thanks to Microsoft Office 365's cloud environment and an add-in like our contract management one, an audit trail is created for every of these processes and notifies you when a change is made.
5. Be Alerted When Contracts Are Up For Renewal
Micro-managing contracts can be a nightmare already if you are running on a manual platform. If you are working for a large organization with hundreds if not thousands of contracts, knowing when each contract is up for renewal is imperative. By notifying you of upcoming contract renewals, you're equipped with the knowledge beforehand instead of being alerted last-minute. You'll be able to renegotiate relevant contracts and avoid having them auto-renewed without your input.
Learn more about how to avoid Common Contract Management Pitfalls to Improve Efficiency & Reduce Risk
Download Whitepaper - 5 Ways ConvergePoint Contract Management Software Can Boost Your Office 365 SharePoint