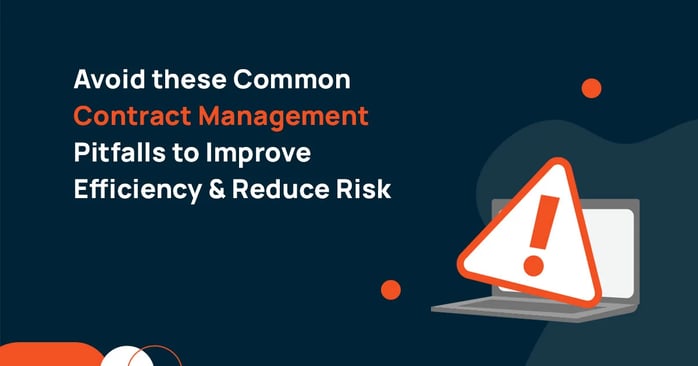 Compliance professionals who manage contracts know how important it is to produce flawless documents. No two contracts are ever alike; they each have their own codicils and clauses and important terms that might have required months of negotiations. Nothing less than complete accuracy and perfection in all elements of contract creation, review, approval, implementation and renewal is acceptable. Anything less could cost the company dearly in terms of fines for nonperformance and noncompliance.
Here are four common contract work processes that put organizations at risk:
1. Haphazard workflow
Once a deal has been landed, it helps to have a clearly defined workflow in place. Responsible parties should receive automated alerts when it is their turn to act on a contract—whether to review a document, approve the terms, renew, cancel, etc. If a structured workflow is not in place, important actions can be missed and deadlines may pass unnoticed, which can later lead to fines, a breakdown of an agreement, harm to the organization's reputation, legal disputes, or all of the above.
2. Nonexistent version control
Most organizations handle hundreds if not thousands of contracts a year. Now imagine that there are multiple drafts of each contract floating around—whether stored on employees' hard drives or in their emails. It's not easy keeping track of the latest versions and determining who still owes what review or approval. How can anyone know which is the most recent version? This is not only an efficiency killer, but it could be a deal breaker, too. It's best to find a contract lifecycle management (CLM) solution that ensures the latest version of any given document is the only one an approved individual may access. Less time is lost and less confusions exists when all parties are confident the contract that they've accessed is certainly the latest version.
3. Random repositories
In addition to version control, it helps if the CLM solution offers a central repository for easy search, a clean audit, and permission-based access. Without a secure, central repository, organizations run the risk of having important data fall into the wrong hands. If the data isn't secure, it can be emailed to competitors, intellectual property can be put at risk, and important financial details can be disseminated in such a way that violates the law or company policy. In addition to these extreme risks, organizations also lose time hunting for documents that aren't stored in the correct or ideal location and audits can easily become a time-consuming nightmare.
4. Status obscurity
If an organization fails to include an oversight function in contract management, chances are great that some contracts may fall through the cracks and not get renewed or canceled in a timely fashion. It's important to assign duties to key personnel and provide them with a means to receive reminders and other notices for greater accountability. Giving relevant employees access to a real-time dashboard with at-a-glance status reports will also go a long way toward improving oversight and accountability in a CLM process.
Organizations suffering through inefficiencies and loss caused by outdated processes such as these will find a number of options for improved CLM on the market today. Technology is constantly evolving and many organizations are in the process of updating their digital capabilities to keep pace. Money invested in compliance solutions such as a quality CLM can ultimately provide a major return on investment once adopted by employees.
Also read, 7 Successful Tips to Improve Your Contract Management
ConvergePoint offers Contract Management software that works seamlessly with Microsoft SharePoint and Office 365. Request a demo today.
Download Whitepaper : Maximizing Compliance and Risk Mitigation with ConvergePoint and Microsoft 365 SharePoint