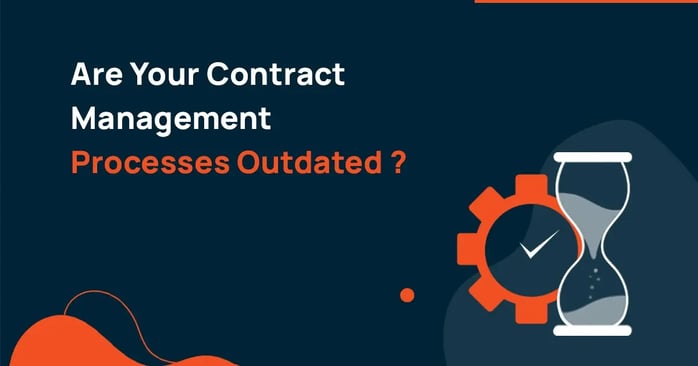 On a daily basis, it's easy to get comfortable with the current business processes running within your organization. After all, your business may have operated this way for a number of years and your processes don't necessarily need constant updates to be successful.
Eventually, there comes a time when updates are necessary. Whether your organization is significantly growing or you realize you need new functionality with your current business processes, new updates implementing the latest industry best practices can bring significant improvements to your revenue and bottom line.
One area that can be overlooked when it comes to integrating new updates is your company's contract management processes. Running on outdated ones can cause a wealth of problems that can appear later down the road, some of these costing large corporations millions of dollars. By adopting new approaches to managing your contract lifecycle, you will be staying ahead of the curve and bring improvements to your organization.
So how do you determine if your contract management processes are outdated? Here are a few areas to consider:
Are Your Contracts in One Location?
Sharing any document between two parties can be easily accomplished without any issues. But what if your document is shared among a few more employees? What about throughout your entire department? Or maybe your whole organization?
Securely storing your contracts in one centralized location prevents your documents from getting lost or wrongly edited. If your business is operating on an outdated contract management system, you've likely experienced these issues. Plus, outdated contract management processes can't ensure only the right individuals have access to the respective documents.
Experiencing Communication Issues and Lost Time?
Since contracts are routinely updated with new information and edits, sending them to the appropriate people is imperative to avoid downtime. But with unforeseen communication errors slowing down the process, an outdated contract management system can multiply the lost time your organization faces when dealing with these documents.
With the business world shifting to cloud-based platforms for their contract management needs, much of this downtime and back-and-forth exchange of documents is avoided altogether. If your organization is exclusively sharing documents by email or through similar means, these issues might continue to exist.
Are Your Files Lost on Multiple Shared Drives?
Neatly organizing all of your contracts and documents can be tedious, especially with outdated contract management processes in place. If you're storing hundreds of Microsoft Word and Excel documents on your shared drive, that can put extra stress on you to account for every one of them.
If your business is already using Microsoft Office 365, why not leverage it to track your contracts and documents? Consider using Microsoft Office 365 document management to ensure that documents are stored in one central document library. Go one step further and streamline the entire contract management process with a turn key Contract Lifecycle Management Add-In on Office 365 like the one ConvergePoint offers.
Are You Notified of Upcoming Renewals?
Micro-managing upcoming contract renewal deadlines can be difficult to track with an Excel spreadsheet or Outlook Calendar. With no processes alerting you of these upcoming deadlines, erroneously auto-renewing them can be problematic for your organization. You shouldn't have to be in-the-know for every contract within your business, especially if there are thousands of documents to account for.
Outdated contract management processes can make your life more difficult by not notifying which contract is up for renewal, when it'll expire, and what key points you'll need to address in the next version. Additionally, they can make your audit trail harder to retrieve when it comes time for it.
Are You Using eSignatures?
While creating and managing contracts get all the attention, only signing them can make them go into motion. Traditionally, signing contracts in person brings a sense of accomplishment with the related parties, but could it be slowing down the contract management process?
Signing these contracts in person can cause logistical issues for your organization. Not only do you need to track down the approver, you'll need to scan or fax documents back to the responsible party which can take even more time. Using eSignatures in a contract management system or through a mobile device can save tremendous amounts of time for all parties and create accurate timestamps of when the document was approved.
To learn more about our Contract Management Software or Add-In now available on the Microsoft Office 365 Store, head here or schedule a demo now.
Download Contract Management White Paper