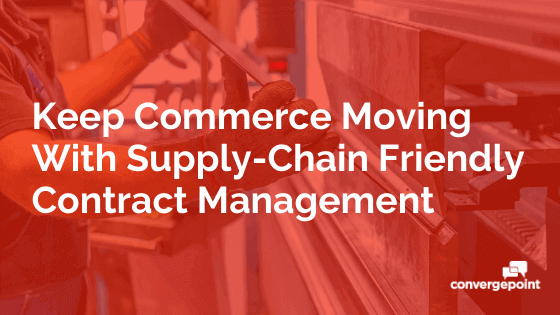 Find a CLM solution that will keep your company moving forward
Globalization and the advent of online shopping have made the transportation and logistics industry a booming business worth trillions of dollars. Despite a hard-to-predict future with a looming recession, union-worker strikes, trade wars, and potential tariffs on imports shaking things up, service providers are still prioritizing the digitization of their contract management systems. Doing so will undoubtedly help remove bottlenecks, making it easier for supply to meet demand on time.
The industry is too vast and the scope of work too global to rely on outdated legacy systems to manage the volume of high-value buy-side and sell-side contracts that flow through most freight companies. When it comes to international transactions, the contract management work becomes even more complicated because transactions are subject to multiple heavy regulations by local, state, federal, and international laws.
That is why more global businesses are moving toward the digital transformation of all their systems to be better able to compete in the marketplace and meet customer's high demands for hassle-free supply and on-time deliveries. Extending these digital upgrades to contract compliance is a natural step.
Hazards ahead
When it comes to managing transportation and logistics contracts, things are infinitely more complicated because the process must take into account vendor to supplier to customer contract relationships. It's important to have a clear line of sight to the challenges involved before investigating contract lifecycle management (CLM) solutions:
It's difficult and time-consuming to produce a contract because the tools for requesting, creating and storing contracts are in disparate systems.
Contracts are spread across legacy systems, possibly across countries, with versions and related documents and notes buried in a variety of emails and share folders.
There isn't a good version-control solution in place, which makes it hard to know which draft of the contract is the latest.
The global sales teams, suppliers, and vendors involved for each contract work in different time zones, so collaboration is difficult and ad-hoc manual requests are common but difficult to manage, which causes delays.
Some contract terms, such as payment clauses, are fluid and need constant oversight to ensure terms remain acceptable by all parties. There is also volatile pricing for items such as fuel, which will fluctuate daily.
Compliance risks are more likely because of fast-changing regulations and obligations in an international business.
With industry growth on an upward trend, the time is now to find and implement a contract management solution that will enable smooth daily transactions that keep the supply intake and export moving along.
Life in the fast lane
In the fast-paced transportation and logistics industry, there's no time to waste on inefficient and outdated legacy contract management processes. There are also many opportunities to lose money if companies aren't hypervigilant about pricing clauses, automatic renewals, and other risk factors such as lax security and the potential for subsequent data breaches.
Companies looking to improve their supply chain operations and speed up their time to market should be on the lookout for a CLM solution that can address the major challenges and risks they've had to face with legacy technology.
Start with a discussion with IT and find out what system parameters to work within. Then, start researching CLM solutions and watching demonstrations of technology that appears to be a potential fit. It's important to find a CLM solution that will offer:
One solution for contract creation and contract management to eliminate confusion and keep all the records associated with a contract's lifecycle within the same software
A single, secure location where all related documents, obligations (such as certificates of insurance) and discussion board notes regarding the contract are linked to the contracts for quick search, swift review and auditing purposes
Built-in version control that automatically stores version notes and details, but also ensures the only version accessible is the latest version to further cut down on confusion and speed the review and approval process along
Easy, online collaboration tools that allow all parties with permission to view, discuss, edit, approve, and attach supporting documents that will remain with the contract throughout its lifecycle for easy global partnerships
The ability to upload signed contracts and supporting documents directly into the software application
Real-time, at-a-glance dashboards that show users the contracts under their purview and all the pertinent details they need to make quick decisions and note any immediate changes requiring swift review and approval such as impending deadlines and potential review bottlenecks
The ability to store contract templates and clause libraries for frequently used contract types
Customizable alerts to ensure no important deadline is missed throughout the lifecycle of the contract for added compliance and efficiency
More companies are adopting Microsoft Office 365 and SharePoint for their document-management and collaboration needs. ConvergePoint's Contract Management software integrates seamlessly with Microsoft technology and is easy to use because more people are familiar with Office functionality. Schedule a demo today.
Download Contract Management White Paper