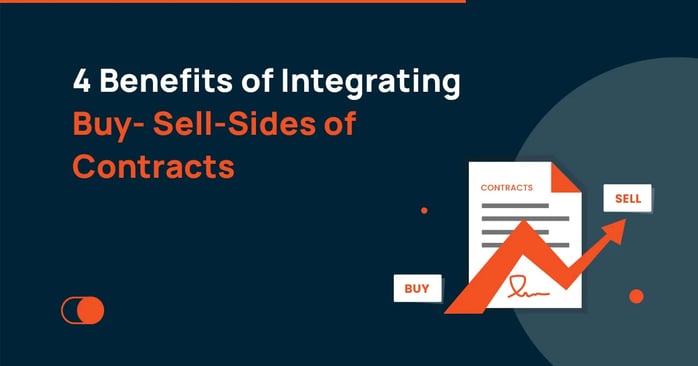 Often, the buy-side of contract managementsits at the opposite end of the spectrum — and the opposite end of the office — from the sell-side of contract management. Some companies have a greater need for buy-side versus sell-side, or vice versa, and often, companies choose to focus on one over the other, meaning the goals for each side are very different.
The sell-side's goals are of course to be able to respond to customers' needs, as well as manage and nurture existing client relationships. The buy-side's goals, on the other hand, are to ensure adherence to the quality standards it establishes and maintain compliance.
With different objectives, it's no wonder that buy-side and sell-side contracting have been kept separate within organizations — to the point where they often have different teams or departments manage them, each with their own contract managers.
Just because they've been kept separate, however, doesn't mean they wouldn't benefit from integrating to one contract management system. After all, both sides have a similar goal — to evaluate which business partnerships are the most profitable.
By combining the two, they could learn from each other's past experiences and interactions with customers and vendors. They could also experience greater efficiency, as data and resources would be integrated and not redundant.
ConvergePoint's Contract Management Software can handle both the buying and selling sides, automating and streamlining the contract process for contract managers.
Benefits for Both Buying and Selling Sides:
Increased visibility – produce real-time reports from which you can learn vital information about the current market, potential and missed opportunities, and customer and vendor relationships.
Advanced document approval workflows – ensure the right people only receive notifications when they're needed to work on a contract, which are prioritized by contract dollar amount requests and managed on a single system.
Obligation management, notifications and tracking – avoid uneconomical contracts auto-renewing and costing you hundreds of thousands of dollars by receiving automated email notifications when contracts are due to renew or expire. Don't miss an opportunity to review a contract's performance and evaluate your current relationship with a customer or vendor before entering the renewal process.
Version history – improve your customer and vendor partnerships by eliminating contract ambiguity. Keep records of all previous versions, discussions, edits and notes surrounding contracts with both vendors and customers.
Looking to integrate the buying and selling sides of your contract processes, but not sure where to start? ConvergePoint can help — take a look at our Guide on How to Establish a Contract Management System.
Download Whitepaper - Why Convergepoint Contract Management Software is the Ideal Solution for Microsoft 365 Sharepoint Users