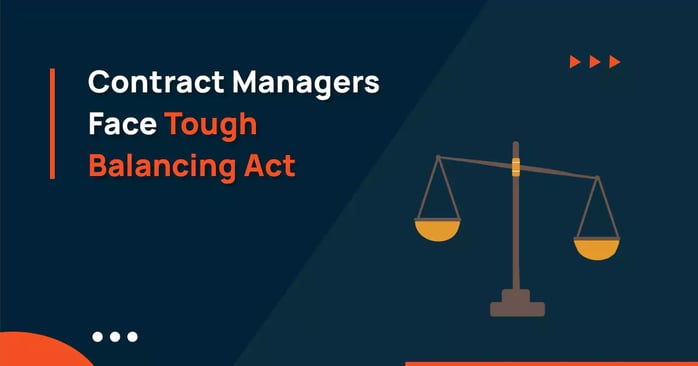 The contract manager's job description, status and responsibilities vary from company to company, but the position is a necessary and critical part of any organization. They're often required to have a legal background so they can draft, negotiate and execute contracts, as well as have enough business acumen to: make deals that benefit the organization and comply with company policies and ethics; serve as a point of contact for customers and vendors; and ensure contractual obligations are met on both sides, coordinating with finance/accounting and other departments as necessary.
On top of these responsibilities, contract managers are also tasked with managing the entire contract process, from creation and approval to contractual obligation management, renewals and contract performance evaluation.
It's a tough balancing act among legal, business development and administrative — and confusion about the wide range of responsibilities that contract managers are asked to take on often slows the contract creation, review and negotiation processes.
What does your contract management process look like, and who are your contract managers?
Does your organization rely on lawyers and in-house general counsel OR contract specialists and paralegals to manage the contract process?
If your legal team is made up of lawyers, how do you ensure they understand the business side of your company so you can maximize sales and prevent revenue loss from unused, auto-renewing or uneconomical contracts?
If you have contract specialists or administrators, how do you also ensure they understand the business side of your company, particularly procurement and sales? How do you empower them to structure and negotiate advantageous contracts, while also giving them veto power on contracts they feel are unfavorable?
Which aspects of the contract process are your contract managers in charge of?
Procurement, contract drafting, negotiation and approval/execution (including: expected outcome measures, costs, acceptance and rejection of terms, signatures, contract dates and information)
Contractual obligations (including: ensuring terms and conditions are carried out and met, managing payment schedule and terms, coordinating between company (and various departments) and vendor/customer)
Records keeping (including: maintaining of contracts, revisions, version history and supporting documents)
Contract performance (including: what to monitor, how to evaluate success or failure, risk assessment and how to determine whether to renew, renegotiate or kill the contract)
Policy and procedure development (including: ensuring procedures exist for contract management that are compliant with company policy and regulatory standards)
With so many tasks on their plates, how do your contract managers juggle all their responsibilities? Automating the full contract lifecycle, with a system such as ConvergePoint's Contract Management Software, can help eliminate confusion and inefficiencies, while empowering your legal team:
Reduce errors from manual management of contractual obligations, renewals and expirations
Save legal team's time and reassure them that their individual roles in the contract process are important with advanced document approval workflows, which notify the right people at the right time of a task
Allow lawyers to focus on more important responsibilities by not bogging down their day with menial tasks of the contract process
Increase oversight into legal team's work with ad hoc reports and real-time dashboards showing status updates If your contract managers need assistance in streamlining their processes, take a look at our step-by-step guide, which looks at your current processes' challenges and opportunities, and walks you through laying the groundwork for a more efficient contract management system.
Also for more information read 5 Ways to Create Legal Team Cohesion with Contract Management.
Download Contract Management White Paper