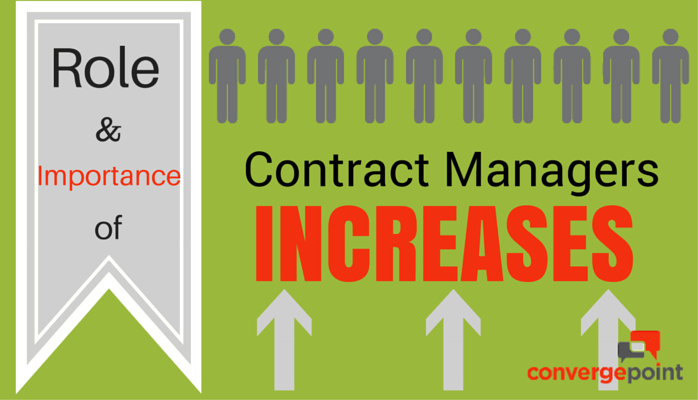 Without committed, experienced contract managers, it's virtually impossible to have an efficient contract management system, whether your organization relies on
Contract Management Software
or not.
From contract requests and creation through execution and renewal management, contract managers have the critical role of ensuring contracts make it through every step of the process, contractual obligations are met, clients and vendors are kept happy and contracts remain profitable for the company.
Contract Management Software
supports
contract managers mitigate risks
and helps them automate these processes, and it's the contract managers' job to maximize the software's capabilities as their role becomes increasingly important.
In fact,
a recent webinar hosted by the International Association for Contract & Commercial Management
highlighted "five growing risks that justify the need" for dedicated contract managers and an efficient system: (1) growing dependence on third parties; (2) increased regulations and stricter compliance standards; (3) internationalism; (4) the need for more executive leadership oversight; (5) and greater coordination and collaboration amongst a company's departments.
As companies outsource more and work with more international companies, a streamlined system led by a productive contract manager is crucial for managing external suppliers, creating better documentation that crosses cultural and linguistic differences and staying ahead of local, state, national and international regulations. In addition, contract managers need to
balance the legal and business aspects
of the position as leadership asks them to be more involved in the business side and coordinate with the procurement, sales, accounting and finance and compliance departments.
With all of these responsibilities in mind, what do good contract managers look like?
They must combine a working knowledge of current regulations, laws, compliance issues, industry standards and company policies with contracting concepts to be able to draft and review contracts. Strong business acumen is required so they can evaluate contract requests and a contract's value to the organization, and be able to negotiate with clients and vendors, while maintaining the business relationship. Good contract managers also track contractual obligations, ensuring reports and invoices are submitted accurately and on time. They prepare reports that analyze a contract's performance and then determine how to proceed when a contract is up for renewal or expiration.
While good contract managers must have great organization and communications skills and know how to drive the contract process,
Contract Management Software, such as the one offered by ConvergePoint, can help expedite their processes. Software can help prioritize contract requests and approvals, produce ad hoc reports, track contracts' statuses in real-time, send automated alerts about contractual obligations, renewals and expirations, and more.
Looking for guidance on how to improve your current contract management system? Take a look at our step-by-step guide, which looks at your current processes' challenges and opportunities, and walks you through laying the groundwork for a more efficient contract management system.
Download Contract Management WhitePaper