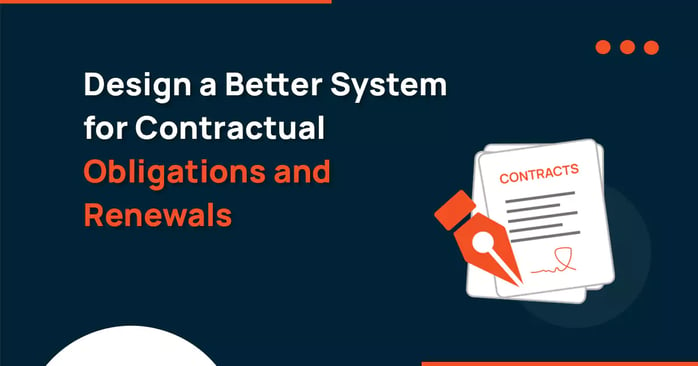 A couple of weeks ago, we provided guidelines and questions to ask your legal team to help you evaluate the effectiveness and efficiency of the contract creation (contract requests, creation, review, approval and execution) side of your current processes. What happens once the contract has been executed, and how can you ensure the contract management side is equally efficient?
In the contract creation process, your legal administrators' time is eaten up during one particular step in the process — organizing and distributing contract requests. During the contract management process, your legal administrators' time is taken up by organizing and managing deadlines, including multiple contractual obligation dates and renewal or expiration dates.
To build on our article from a couple of weeks ago, here are questions to consider when evaluating or designing the contractual obligations and renewal management sections of your contract management system:
Evaluate the search functionality:
Is your system secure AND accessible to the right employees only?
Can the legal team or staff responsible for fulfilling the contract's terms quickly and easily access the contract and its supporting documents?
How long does it take for an individual to locate a contract? Are supporting documents always attached, or do they require a separate search?
When an employee does a search, does the system limit access so search results returned are limited to only the contracts he/she has permission to view?
Is your system searchable and/or sortable by contract party names, dates of execution and expiration, keywords and other important criteria?
Having an easily searchable system reduces the time and effort it takes to find documents, whether hard copies or electronic. All systems have some sort of search — whether it's a legal administrator physically searching for a manila folder or a contract manager typing in a keyword to instantly pull up the correct contract — but it's important to understand the robustness of the search functionality.
Look at your process for managing contractual obligations:
How are dates tracked in your current system?
Does your system offer individual views, so employees can see the outstanding tasks pertaining to them only, while managers can see the status of all contracts they're in charge of?
Does the system allow you to enter and track multiple obligations for each contract?
How much information about an obligation can the system manage for you? Can you include who is responsible for the contract, who is responsible for each specific task and the deadline for each individual task? Can you assign different tasks to different individuals with different deadlines? Can you make the completion of tasks dependent on one another?
If your chief legal counsel likes to be kept in the loop, can he/she be notified of where the legal team is in the process, without being assigned a task?
How often are reminders sent, and how much flexibility do you have in how often they're sent?
If reminders are ignored and tasks become overdue, is there an escalation process?
For convenience and compliance reasons, it's important to have all of this information accessible from and managed in one system. That same system should offer the legal team a bird's eye view of what's happening with all contracts, while also sending automated email notifications so your legal team doesn't have to continually check upcoming or pending dates manually. An automated contract management system, such as the one built on Microsoft SharePoint offered by ConvergePoint, will manage all of these tasks from one easy-to-use platform.
Consider how expiring contracts are handled:
Are expired contracts stored, accessible and searchable from the same system?
What obligations, if any, must your organization or its business partner fulfill if the contract expires or is cancelled before the due date?
How early can the renewal process begin in your current system? How much time does your legal team need to review an expiring contract? Can you set those dates in your system so that they vary, depending on the type of contract?
How often are reminders sent out to review an expiring contract?
If reminders are ignored and tasks become overdue, is there an escalation process?
How are requests for changes handled when a contract needs to be tweaked or renegotiated before it is renewed? Who do revisions get sent to?
Most organizations have a contract workflow, but how efficient are their processes and how can they be improved by automation? When looking at contract management software, consider how closely the automated system can align with your current obligation management and renewal processes — or better yet, improve them.
Contractual obligations and renewal management are just two steps in a multi-step process. Are your other steps streamlined? Make sure your entire contract workflow is set up to run efficiently by reviewing our How-to guide by clicking below.
Related Articles:
Download Contract Management White Paper