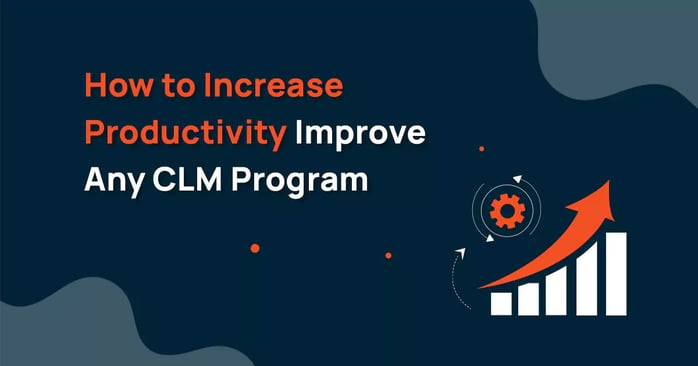 When you think about all the things that eat up your productivity at work, do you find that you are wasting a lot of time on contract-management tasks? When you are responsible for hundreds or even thousands of contracts, it becomes critical that you manage your time as wisely as possible. Use these seven tips to eliminate bottlenecks and improve productivity:
1. Create custom templates and use them
The first step to organizing your contract lifecycle management (CLM) processes is to create and use templates that may be shared throughout the organization. Using contract templates will help ensure concise and consistent formatting on each of the company's contracts. It  will also standardize language regarding various parts of the contract, such as terms and clauses. This will also increase professionalism and integrity across the enterprise.
2. Keep contracts in a central location
Keeping contracts in one location allows an organization to stay streamlined and on top of its existing and previous contracts. When contractual documents are all in one place, they become easier to search.
3. Encourage collaboration
This tip for managing contracts goes hand-in-hand with keeping your contracts in one location . When contracts are in a single, central repository, any number of collaborators can locate the document and make the required edits or comments.Emailing contracts and other sensitive documents should be avoided.
Aside from security concerns, e mail is a collaboration killer. It makes it difficult to find the latest version of a contract, let alone collaborate on the approval and review. Employing contract management software is great way to manage the drafting and review process.
4. Set up automatic reminders
One of the many great things about advanced technology is being able to set up automated reminders related to specific tasks. This is no different when it comes to CLM. Reminders should be automatic and set up at each critical stage of a contract. These reminders can be related to certain approval tasks or can correspond with important deadlines such as contract renewal and expiration dates.
5. Leverage your existing technology
Many organizations already have tools at their finger tips that can help them takebetter control of their CLM. Microsoft Office 365 and SharePoint Online offer some of those tools.But on their own, they offer only a basic level of functionality. That is why you should look for software and apps that integrate with Office 365 and SharePoint. Not only will this take the contract process to the next level, but it will also make it easier for users through out the organization to learn and understand.
6. Always be ready for an audit
Managing contracts via email makes it difficult to prepare for an audit. Whether an organization anticipates an audit, it's important to stay ahead of the curve and log contract-related operations.Create an audit trail or invest in contract management software that provides an audit trail. The step-by-step documented history of each contract will streamline the audit process if it occurs.
7. View pertinent data at a glance
Having a dashboard or monitoring tool in your contract management process allows you to view the current status, updates or action history on any given contractual document under your purview. Choose a CLM tool that provides administrators with insightful data at every given stage, but make sure it also offers critical information at a glance to ensure users can home in on the data they need quickly.
Related Article:
CLM software can help organizations implement these best practices quickly and easily. Learn more about ConvergePoint's Contract Management software, which seamlessly integrates with Microsoft Office 365 and SharePoint, and schedule a demo today.
Download Contract Management White Paper