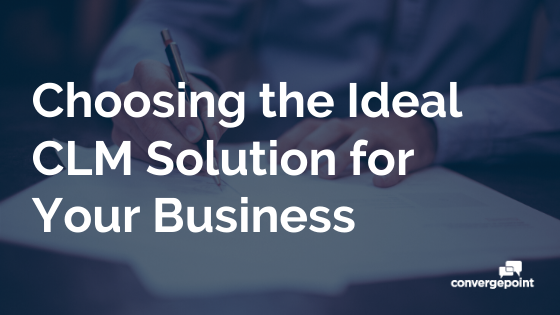 It's easy to get nervous and overwhelmed when you are tasked with choosing a new contract lifecycle management (CLM) solution that will suit your organization. Whatever you choose, you will likely be obligated to use it for the foreseeable future, so it must comply with every possible use case. It also needs to be scalable, so it can grow with your organization, and it must not exceed the budget. No pressure.
Relax. This list of criteria for a top-notch CLM solution will help you narrow your search in no time:
1. One Central Repository
Choose a contract management solution that offers a single, secure, central repository. It will help your team save a lot of time if they can easily find the contracts and supporting documents they need at a moment's notice. Be certain the CLM you select offers dashboards with easy viewing of the contracts under your purview for an even faster search and reference capability.
2. Contract Renewal and Expiration Alerts
When managing the lifecycle of a contract, it's important that you are able to set up automatic reminders and leave a clear audit trail to help manage risk and avoid unwanted fines or renewal surprises. Consider choosing a solution that will work with your Active Directory or employee database to allow role-based access. This will allow you to set and control permissions based on a person's role within your company, rather than their name or employee ID number. Using Active Directory, for example, will enable your organization to nimbly shift control over various contracts to different employees based on their roles.
3. Contract Obligation Reminders and Notifications
It's not uncommon for contracts to come with related obligations that need to be assigned out to employees in order to mitigate risk and ensure a productive contract lifecycle. Certificates of Insurance, for example, may need to be renewed annually while the contract itself has a renewal and expiration period that is every three years. For these separate but related tasks, make sure your new contract management solution offers you the ability to assign out these obligatory tasks and send reminders to ensure each is completed on time.
4. Version History
The days of having to round up approvals and guess which version of a contract is the latest should be firmly behind you once you implement a new CLM solution. Choose software that manages this function for you, ensuring that no matter how you search or come across a contract document in the system, you can rest assured it is the latest version that you are viewing. Make sure the software you choose maintains an audit trail showing who made what changes, too, for added compliance.
5. Customizable Templates
If your templates can be branded and customized to your business needs, your employees are more likely to use and reuse them, and your contracts will stay consistent and professional in appearance. Make sure your new CLM offers this functionality along with other ad hoc capabilities.
6. Seamless Integration
Find a software solution that integrates with your existing system and you'll have an easier time getting other departments to buy in. If the user interface is familiar to your colleagues who will be working within the CLM, it is far more likely they will be successful in adopting and using the new technology. IT typically requires new technology to integrate with existing platforms, so it's a good idea to check with that department first. For example, IT may recommend you choose a software application that will work with Microsoft SharePoint or Office 365—two of the most widely used platforms today. Choosing a solution that will work with these platforms will make any data migration simpler.
Once you find a CLM that offers all these features and works with your existing systems, you'll notice an immediate return on investment when you see how much time you will save tracking down contracts and get value by automating the contract lifecycle management.
ConvergePoint offers one of the world's leading contract management solutions that integrates easily with SharePoint and Microsoft Office 365. It meets these criteria and is an affordable option for any sized organization in any industry.Request a demo today .
Download Contract Management WhitePaper