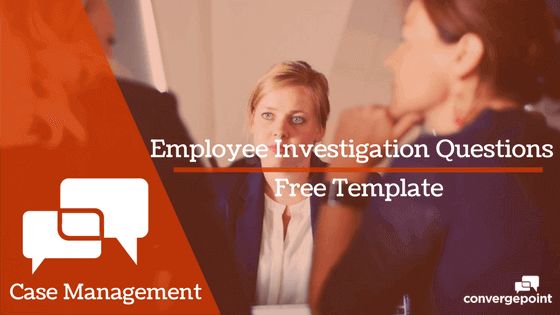 Case Management: Employee Investigation Questions
Choosing the right employee investigation questions should be predicated on whether or not they enabled the investigator to find the truth and come to a suitable resolution. The process involves asking the right questions of the right people at the right time, and then following the threads to get all of the relevant details and information from the interviewees. That being said, HR investigators should not allow a pre-made list of questions to constrain the conversation inside an inflexible structure. Instead, use this list of investigative questions as a jumping off point and allow for the interview to be a fluid conversation.
Questions for the Accused
What happened?
(If denied) What would be the complainant's motive for fabricating these allegations?
Do you have any evidence that the incident was not initially reported accurately?
Are you aware of any other incidents involving the complainant?
Where and when did the incident take place?
Why did the problem arise?
Who else was present?
How did any others present react?
What was said and done?
Why did the problem arise?
How did the complainant respond?
Did the complainant notify you that the conduct was unwelcome?
Have you discussed the incident with any other employees?

If so, who? What did you tell them?

Does anyone else have any additional information?
Is there any other relevant information you can provide?
This set of employee investigation questions can be used to facilitate the investigation process and efficiently decide on a resolution. Remember that investigators should always explain to the employees why they are being interviewed, and thank them for their participation. Investigators should also follow the company's standard interview policies and procedures when choosing investigation questions and conducting the interviews.
Next step: Workplace investigations are only one aspect of an effective case management process. A centralized system to report, investigate and resolve cases will ensure that all details and action items are kept track of and implemented in an efficient and proactive fashion. Download this comprehensive checklist, which outlines best practices for resolving employee incidents with better case management.
Download Incident Management Checklist