ConvergePoint has introduced best practices within compliance into Microsoft's #1 collaborative tool – Microsoft SharePoint. We have expanded the platform to include compliance processes that businesses face everyday – automating these processes to ensure streamlined processes, effective compliance, and corporate cohesion. We originally started with a Policy Management Suite within SharePoint and now we have grown to include best practice solutions for Contract Lifecycle Management, Purchase Order Management, and Employee Health and Safety Training Management. We chose to create our solutions within Microsoft SharePoint over any other platform – here are 10 reasons why and how it is helpful to you: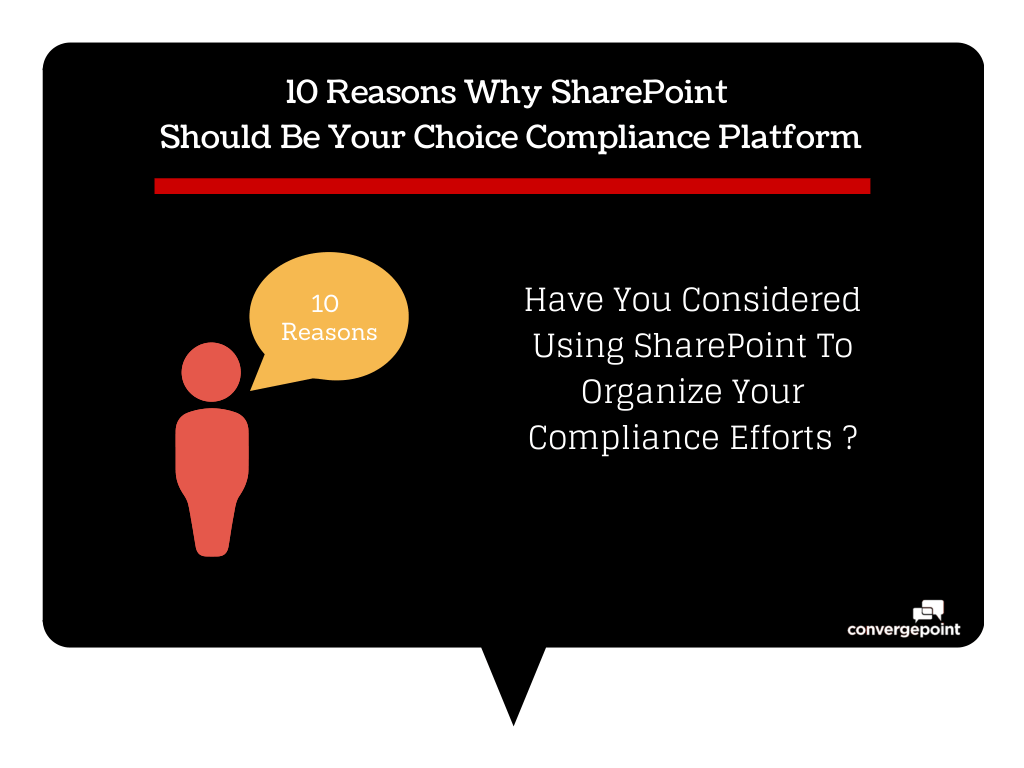 Choosing which platform to host your compliance solutions is not a straightforward task. The solution needs to align with current business processes in a way that ensures cohesive compliance programs and overall cost effectiveness. Microsoft SharePoint is often not considered when choosing platforms because many business analysts do not realize that similar compliance results can be achieved by expanding the platform to include specific capabilities within compliance.
Here at ConvergePoint we have expanded Microsoft's feature heavy collaborative tool to include solutions such as Policies and Procedures Management, Contract Lifecycle Management, and EHS solutions. By utilizing your existing SharePoint Platform you are able to achieve greater cost efficiency than implementing another third party platform, while keeping all of your information in house on your own servers. This ensures a cost effective solution from the beginning – here are 10 additional reasons why SharePoint is often an easy choice.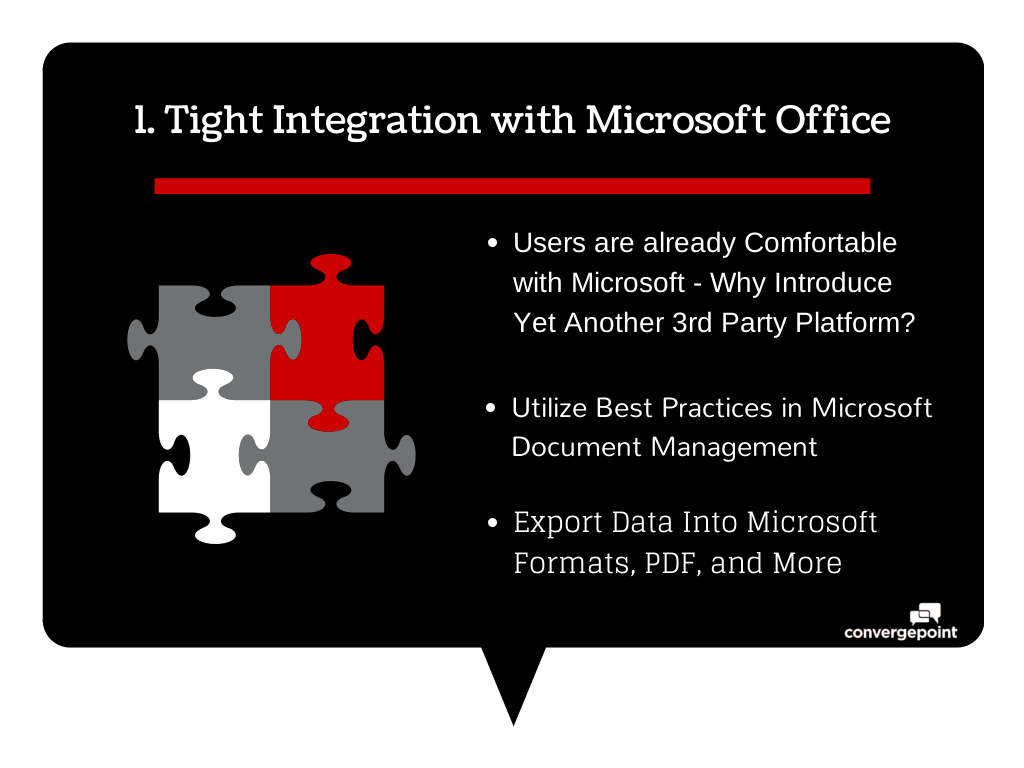 1. Tight Integration With Microsoft Office: Instead of learning yet another 3rd party platform, why not utilize Microsoft capability? A solution that your users are already familiar with? Documents can be created in word, track changes can be utilized, and information can be exported into familiar formats. This ensures wide user acceptance from the beginning, why reinvent the wheel when you can utilize Microsoft Best Practices?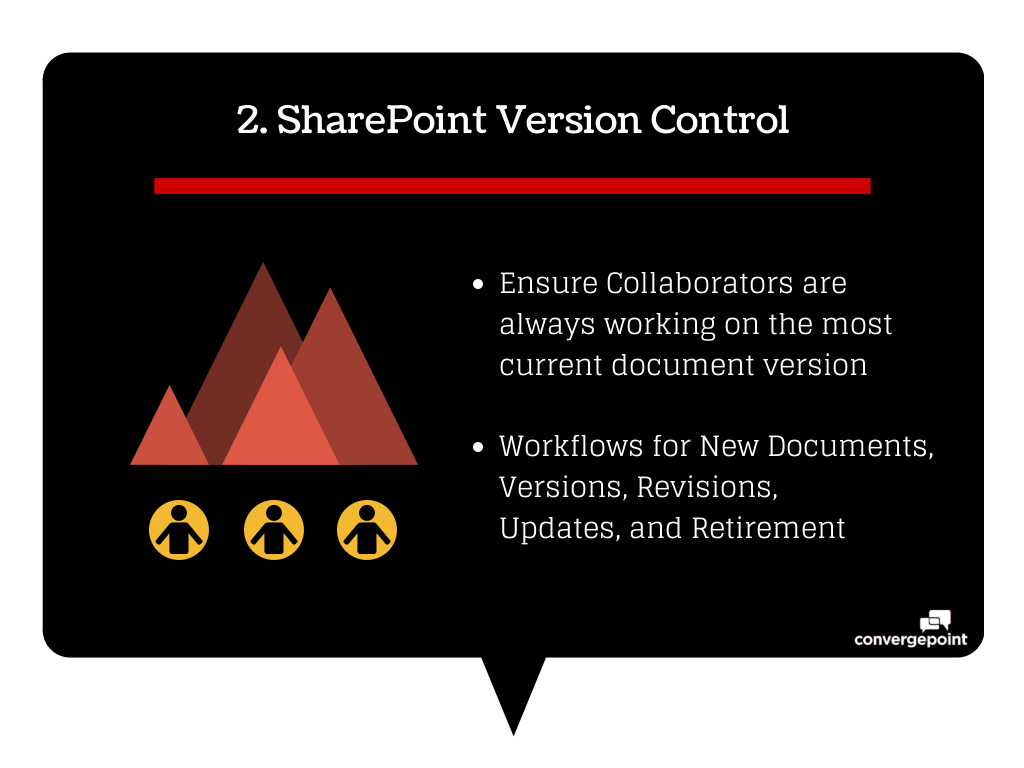 2. SharePoint Version Control: How many times have you searched through a shared drive to make sure you are working on the most current version of a document? No longer is this an issue when you utilize SharePoint – documents are automatically saved within the SharePoint environment making sure everyone is always viewing the most current document. The system stores a snapshot every time the document is opened and saved, so you always have a clear picture of how your documents evolved. We also have instilled workflows for new documents, versions, revisions, updates, and retirement so there is always a workflow option for your specific need. Never lose another document and ensure efficient collaboration.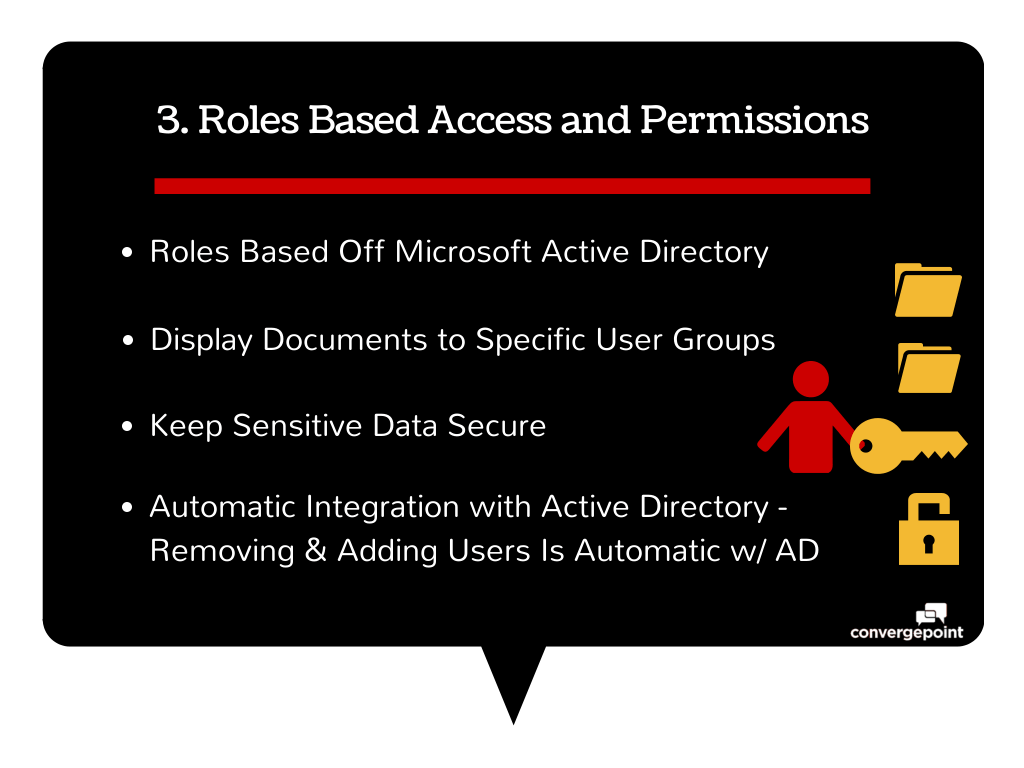 3. Roles Based Access and Permissions: One thing to consider when choosing a compliance platform is how users are managed within the platform – is it a manual process where HR will have to move employees out of groups as they are promoted, hired, or leave the company? SharePoint groups automatically integrate with your active directory – as you update your active directory your SharePoint automatically follows suit. Removing people from work groups is also straightforward – a simple search and replace function allows you to manage the system without heavy IT input.
Keeping sensitive data secure is also important too – SharePoint makes it straightforward to permission off groups so you can ensure employees are only seeing information that is pertinent to them.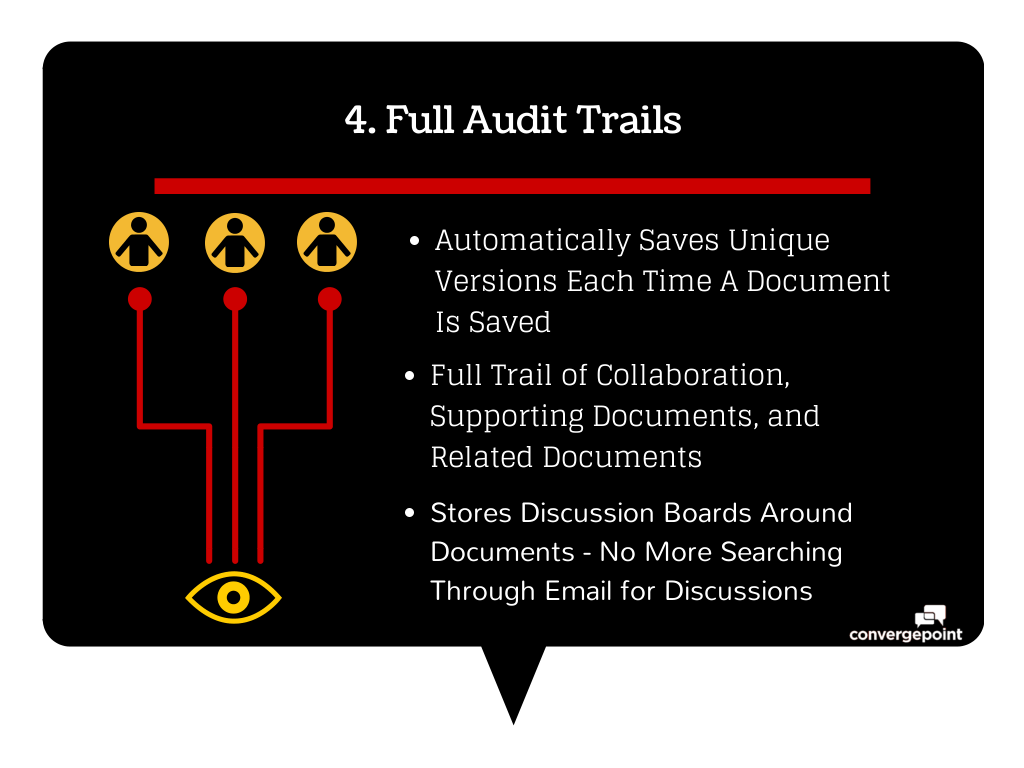 4. Full Audit Trails: A significant necessity of compliance platforms is having a consistent method to storing documentation. Within SharePoint everything is automatic, each version of the document is stored, there is a full trail of who worked on the document when, and all supporting documentation is stored. Discussions are no longer stored in email files, saving significant time when it comes for an internal or external audit. Documents are automatically managed, with renewal and archive dates that automatically remind you when it is time to perform a task. This ensures that nothing is ever lost in the system, there is always a full paper trail, and all supporting documents are filed and stored. The system is green too; paper systems incur additional costs in storage, disposal, and filing. Ensure effective audit trails while reducing costs, SharePoint is a natural selection.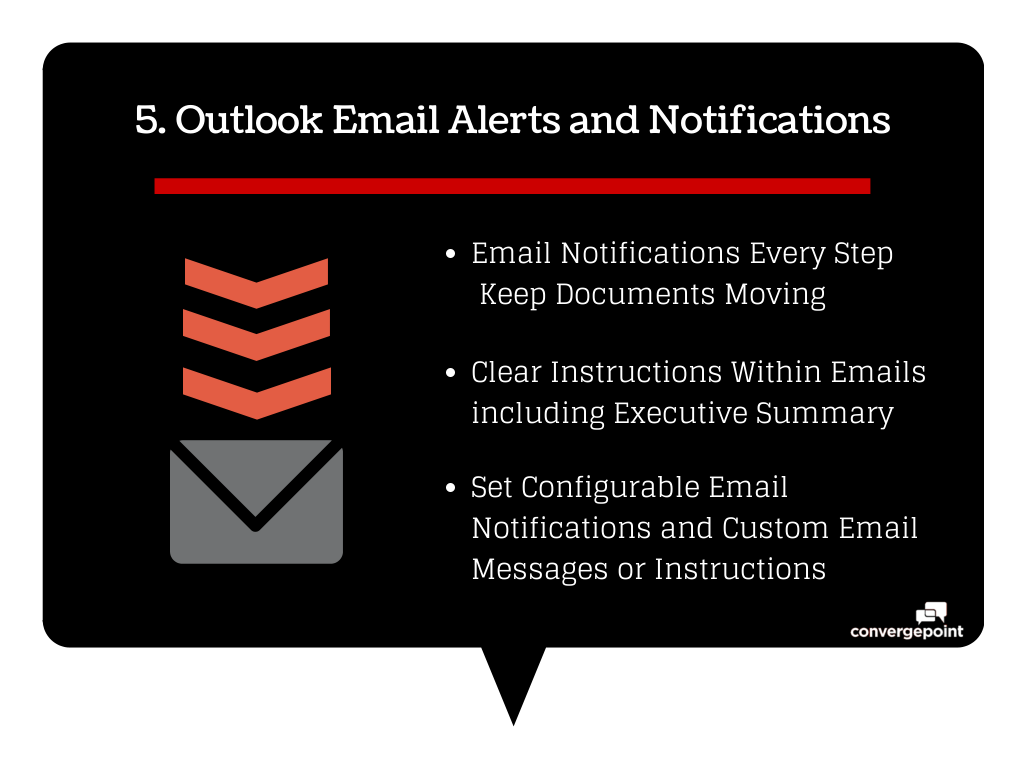 5. Outlook Email Alerts and Notifications: SharePoint automatically keeps the documents moving through the system through a series of email notifications and real-time dashboards. As soon as one person is completed with their section of the task, the system automatically sends a notification to the next person in the chain of work. The emails have configurable messages that include instructions, a link to the document, and an executive summary. This ensures the employee knows exactly what they need to take care of thereby reducing bottlenecks within the system.
Also – what typically happens to a contract or policy when an employee is out of the office for some time? SharePoint allows straightforward work re-assignments without interrupting the chain of work.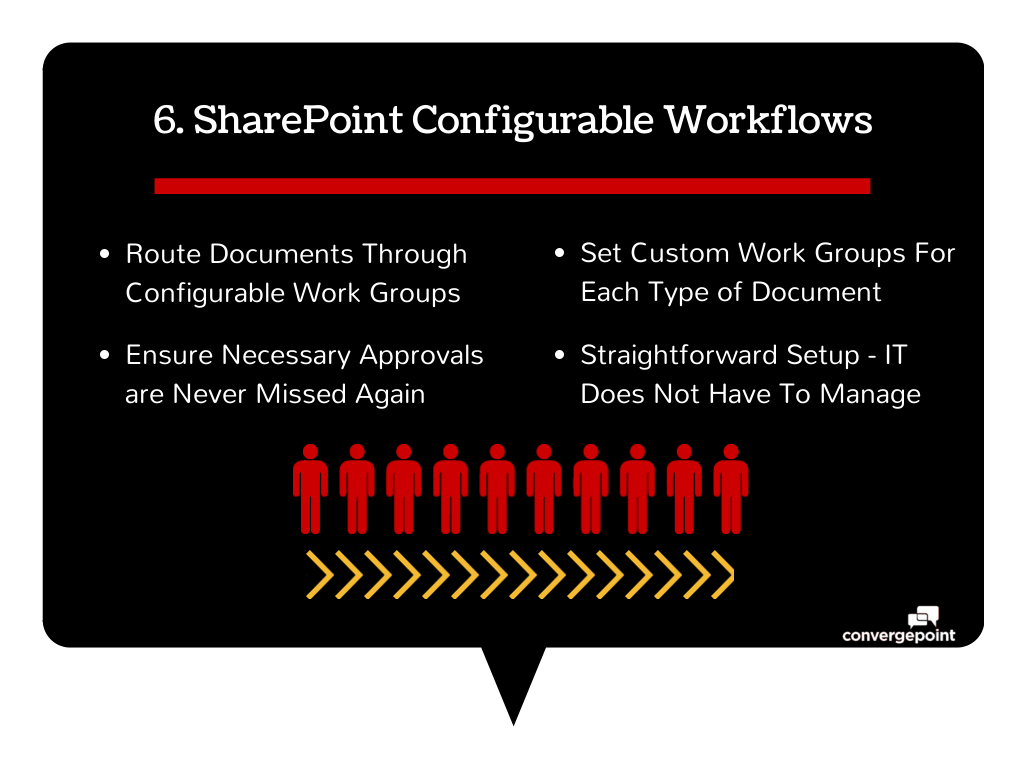 6. SharePoint Configurable Workflows: SharePoint allows you to denote collaboration workflows that documents need to follow as they are requested, created, reviewed, and distributed to the end user. Instead of setting workflows for each document that goes through the system, create workflows around types of documents. IT no longer has to manage these workflow groups – ConvergePoint has made it straightforward for compliance to denote the workflow collaboration.
Not only does SharePoint denote collaborative workflows, it also controls the documents as they come time for renewal or expiration. Once configurable renewal dates are met, the system automatically sends notifications to the right people so that all contracts are accounted for. There are also workflows when something goes wrong or is not taken care of so that there is always a document check and balance.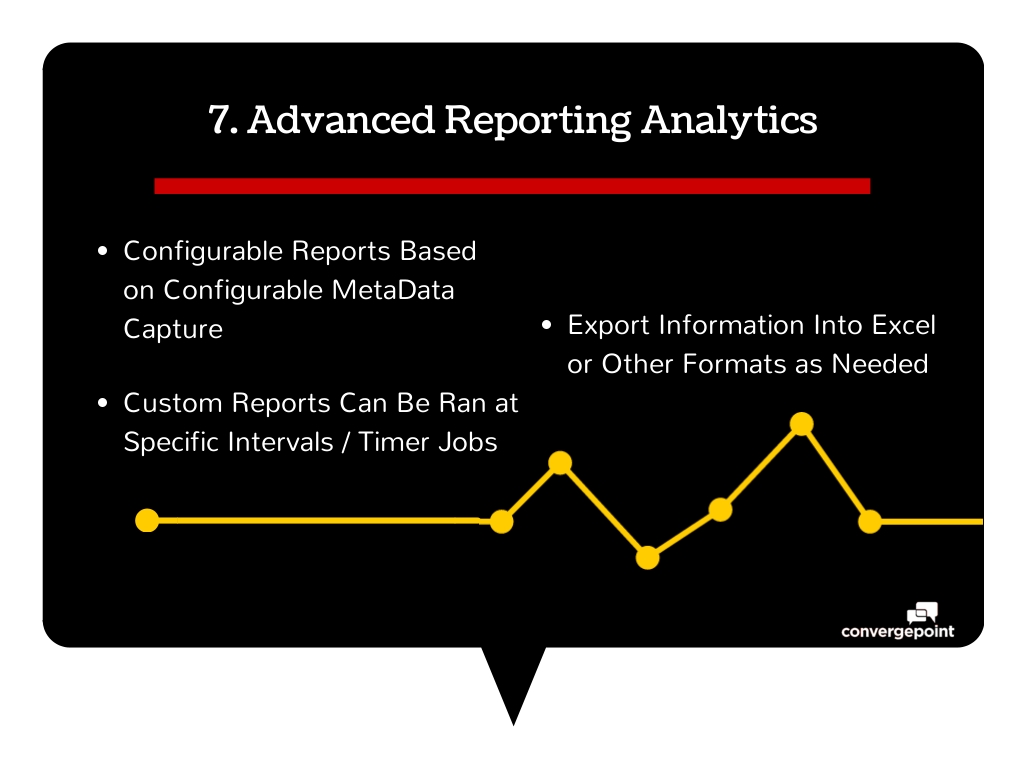 7. Advanced Reporting Analytics: SharePoint allows you to configure what metadata you want to capture then use this metadata to run reporting analysis. Reports are not static, they can be ran off of whatever parameters you desire. Advanced reports are straightforward to set up, and can even be set up to run at specific intervals. For example, you can set a job that will run a report every month to be sent to the compliance manager that shows him all documents that are currently being created or how many employees are in compliance. This makes accountability within compliance easy to quantify and allows you to find the information that you need at a few button clicks. This feature is important when performing internal or external audits as you need to be able to find data easily and be able to interpret that data easily. Did I mention that you get to choose the exporting format – including excel and word? Straightforward data always at your fingertips.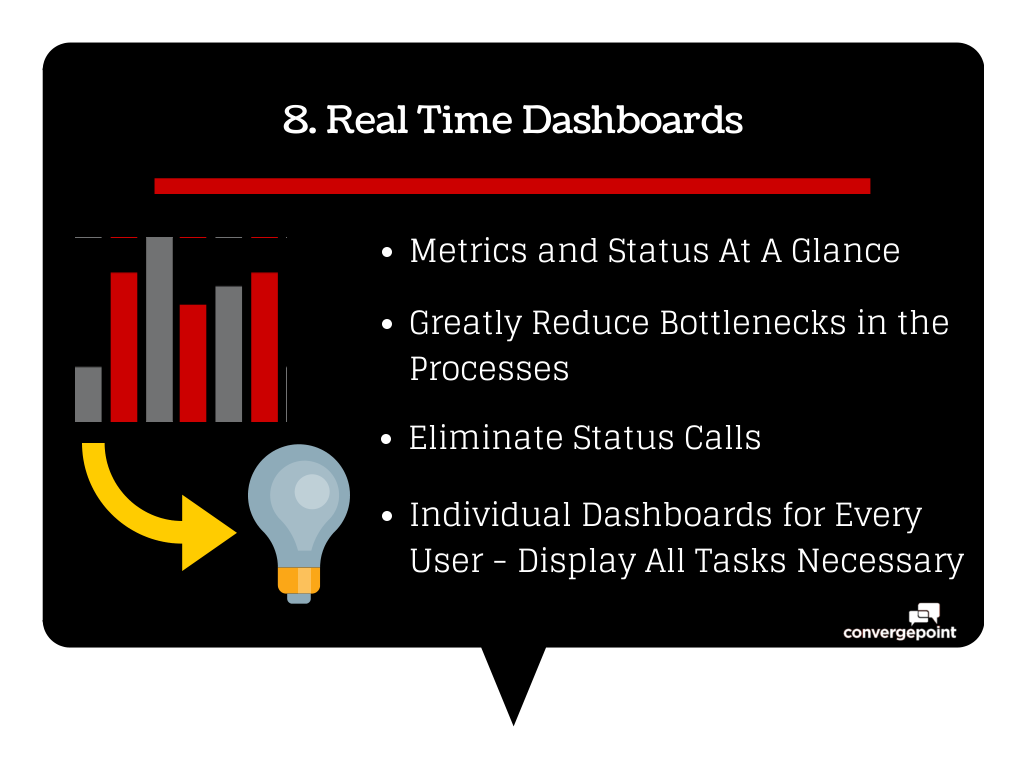 8. Real Time Dashboards: SharePoint allows dashboards that are updated in real time as documents are moving through the system. They are helpful in that they display information in several different ways – tasks that are assigned to me and statuses on other documents. When accessing the system there is a main page that tells the user exactly what they need to take care of. They can reference who currently has their documents and what part of the workflow they are currently in. This also makes it very straightforward for managers to see when something goes wrong or is overdue.
Each user will have a unique dashboard based on their role access – this greatly reduces bottlenecks in the system and ensures that everyone knows exactly what they need to be working on. There are no more excuses that the information was not available to the employees or they did not get it on time – there is a full audit trail of all document statuses.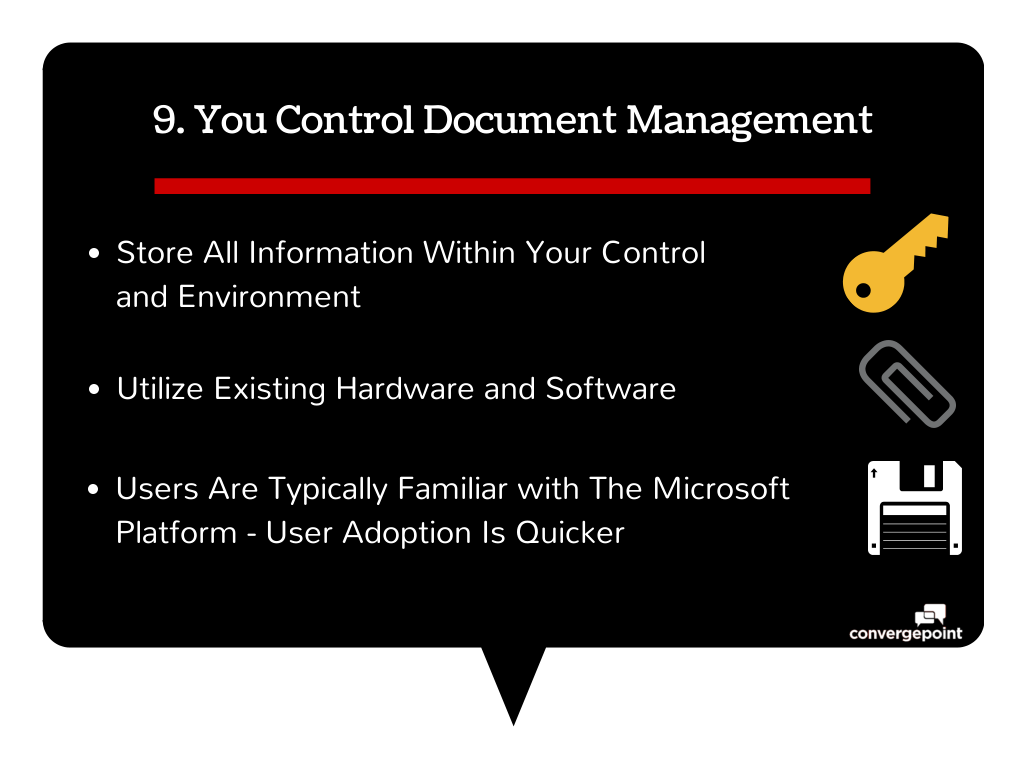 9. You Control Your Document Management: All information and documentation is stored within your SharePoint Environment and all secure information stays within your control. As the regulation of sensitive data has increased, the need for document management has become even more important. Rather than storing your information within the cloud, ensure it is used only in the ways you intend and you have complete access to it.
By utilizing your existing SharePoint environment you are reducing costs – an easy strategy to introduce to management. Most organizations are already familiar with the SharePoint look and feel, often fostering an environment of quick adoption. SharePoint also allows you to integrate applications within the environment, allowing you to take advantage of features such as embedable web parts for your SharePoint Intranet. SharePoint is often already strategic initiative – why not expand the strategy further?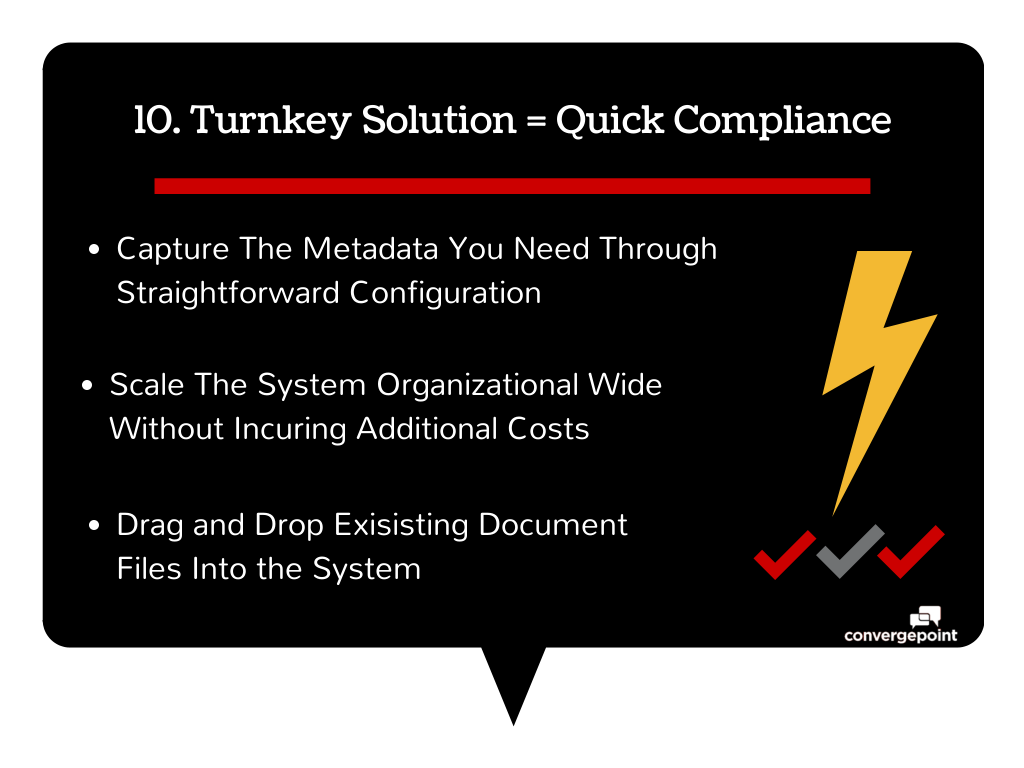 10. Turnkey Solution = Quick Compliance: If all of the previous reasons don't have you convinced, this last one will. By simply expanding the SharePoint environment with the ConvergePoint SharePoint Solution you can ensure quick compliance with a turnkey solution. Implementation of the solution is straightforward and often only takes a few days – there are features that allow the drag and drop of all current compliance documents, straightforward Active Directory group setup, and streamlined workflow collaboration setup. Once these initial parameters are set, the system takes care of the rest – including reminding YOU when it is time to complete tasks.
Take the ambiguity out of the compliance equation – request a demo of our Policies and Procedures Management or our Contract Lifecycle Management Solutions and see how SharePoint and ConvergePoint can ensure effective compliance today.
Click On The Icon Below to Request A Demo!