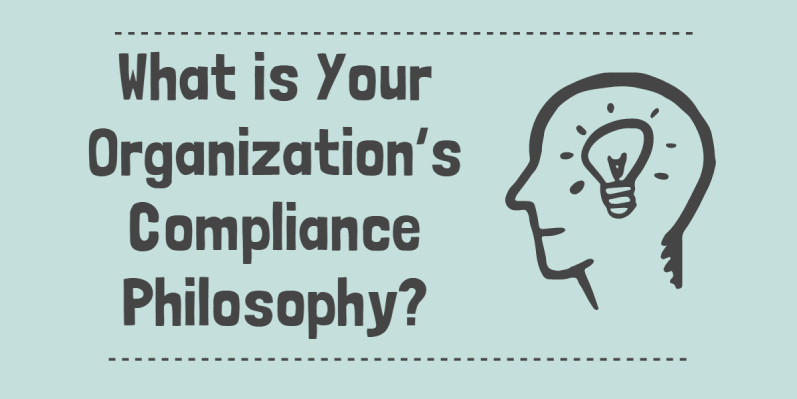 Compliance to legally required standards and practices should, one would think, be the minimum level of acceptable behavior in business today. The fact that so many organizations aggressively promote their status as being in full compliance with all industry standards, suggests that many companies consider the minimum level to be much lower – specifically, no compliance at all.
If you consider a spectrum of compliance, with zero compliance on one end and best practices that go above and beyond at the other, minimal compliance would fall somewhere in the middle. Where would your organization stand on that spectrum? Is your company's compliance philosophy to meet the established standards and then to promote the heck out of that status? Or do you find opportunities to do more than that?
It's important to remember that most standards and practices represent the product of lengthy negotiations between regulators pushing for higher targets and industry associations and lobbyists pushing for what they consider to be more pragmatic ones. On that basis, these 'compromised standards' don't often represent the best that an industry can do.
While civilians outside of your industry might assume that 'compliance is compliance,' the reality is often very different. Companies in financial difficulties may consider the cost of compliance to be something to be cut, and they'll take the risk to do that. Others may consider the cost of investing in compliance products and processes beyond the required minimum to be a less attractive investment of capital than other opportunities. In both cases, the risk assumptions are probably based on seriously flawed data. If you don't have a solid handle on your compliance practices to begin with, how can you accurately quantify the risk you are taking?
If you use the cost of addressing issues at the last audit as your benchmark to justify no further investment, you are guaranteeing that your next bill will be even higher. Alternatively, if you scraped through the last audit and use that as justification for not investing any more capital in compliance, you may be gambling with the future of your organization.
Our comprehensive Compliance Software solutions can help you to create that solid handle on your internal processes and procedures and give you the accurate data you need to make educated choices. Operating on one secure SharePoint portal using templates built on industry best practices, you can manage every element of compliance workflow from policy and contract creation to management and ongoing renewal. Secure access mitigates the risk of loss of version control, and the real-time dashboard provides up-to-the-minute status reports.
The opportunity to promote industry-leading compliance practices is closer than you may think. Once you have a clear sense of how efficient and cost-effective your compliance procedures can be, settling for minimum compliance will be a thing of the past. To learn more about our software now available on SharePoint On-Premise, SharePoint Online via Office 365, and as a Software-as-a-Service, schedule a demo now.
ConvergePoint, the leading Compliance solution provider on Microsoft SharePoint, boasts five full-featured software products for the complete life-cycle management of your Policies & Procedures,Contracts, Conflict of Interest Disclosures, Incident Tracking and Employee Training. Extend your existing Microsoft Office 365 or on-site SharePoint instance, or rely on ConvergePoint's secure cloud platform so you can access the power of ConvergePoint whether or not you have SharePoint. With workflow builders, version control, audit trails, keyword search, custom data fields, dashboards, reporting, and more, ConvergePoint provides industry best practices and U.S. based support.
Download Policy Management WhitePaper