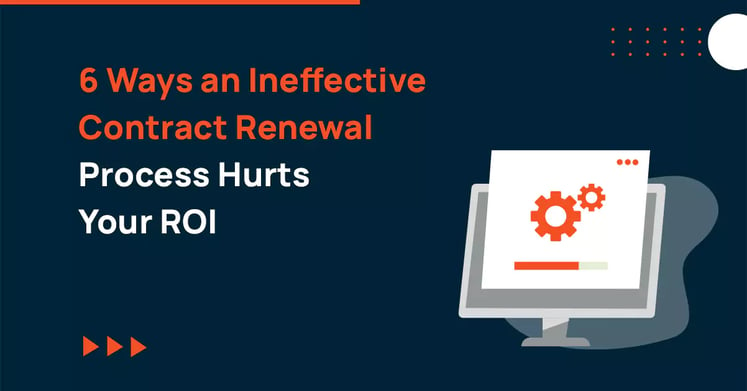 You've probably seen firsthand how mismanagement, errors and delays in the contract renewal process can affect your bottom line.
You might have experienced:
Inaccurate data

about existing licenses and contracts in outdated spreadsheets
A dedicated team inundated with

customer complaints

to rectify or adjust contract renewals
Uneconomical contracts

accidentally auto-renewing
Placing

last-minute rush orders

because the contract with a third-party vendor supplier had expired without your knowledge
Learn more about Contract Obligation and Renewal Management – Alerts & Notifications
Lost opportunities

to review expiring contract terms with your current customers and improve client relationships
Lack of communication

between legal and accounting departments on which contracts to honor, renew and cancel

Instead of thinking about contract renewals as a time of missed opportunities and lost revenue, they should be thought of more positively — as a time to reevaluate the contracts on renewal, refine, improve or move on from existing contracts.
Implementing a more effective, streamlined contract renewal process so you have the time and data to decide on contracts up for renewal doesn't take a large concerted effort either. In fact, contract renewal management is generally offered as part of Contract Management Software. Not all software is created the same, though, so it's important to ensure that the contract management system you select offers the following benefits:
Give your team enough time to review and make decisions about whether to renew, renegotiate or cancel existing contracts by sending them

automated email reminders

well before contracts are due to expire
Easily find expiring contracts and supporting documents by storing them all in

one central document repository
Quickly see the status of all expiring contracts on a

real-time dashboard
Reduce costs by increasing

communication

with accounting department and

accuracy

of invoicing and billing
Get increased visibility into the renewal process with

real-time reporting
Let your employees use their time more efficiently, boost productivity and keep customers and vendors happy by

shortening the overall contract lifecycle
Reduce deployment and training time by using Contract Management Software built on Microsoft SharePoint, which allows you to keep your existing files in Microsoft Word, Excel, etc., and integrates with tools you're already familiar with, including Microsoft Exchange, Office, Active Directory and electronic signature software
With your contract renewal process streamlined on an automated system, you'll then have the opportunity, time and data to make well-informed decisions about which contracts to renew, renegotiate and cancel with both customers and third-party vendors.
Related article : Stay Away from these Contract Renewal Methods
Looking for more information on how to establish effective contract management processes? Read our How-to Guide
Download Contract Management White Paper